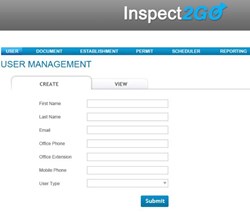 One system handles all EH activities
Orange County, CA (PRWEB) August 20, 2013
EH2GO (http://www.inspect2go.com/eh2go/) is a total software solution designed specifically for Environmental Health and Safety (EHS). Audits and inspections are performed via iPad or Android Tablet. The mobile application syncs with a hosted, web-based office solution. Software demonstrations are offered by Inspect2GO.
EHS Software Modules

Mobile - Field inspection application on iPad, iPhone and Android tablets
Office – Hosted, web-based office software to manage users, facilities and all operations
Reporting – History and custom reporting by facility, date and other search criteria
Document Management – Manage inspection reports, permits, violations and all records
Tracking – Track document status (pending or approved) and violation status (open or resolved)
Inspection Management – Sort, assign and schedule inspections
Audit – Custom EHS audit forms and checklists
Schedule - Assign jobs to Inspectors based on availability/calendar, view inspections due, send notifications
Search - Query database and sort by date ranges, violations, inspection types, permits, facilities and inspectors
Permitting/Licensing – View permit/license history, issue licenses and print permits on location
Permit Status – Paid, due, past due, suspend, reinstate
Geo-mapping - Facility locations
Data Import –Import and export CSV, Excel and database files from existing EHS software systems
Storage – Hosted data storage and backups
Analytics – Create charts and graphs to find identify trends
Accounting - Payment processing, AR, AP, electronic invoicing and payment gateway
Government Regulations – Federal, state and county regulatory code reference (FDA 2009 Food Code, etc.)
About Inspect2GO
Inspect2GO, Inc. (http://www.inspect2go.com) is a mobile application, cloud database and software development company based in Southern California. The firm's mobile technology includes inspection checklists and custom forms with signature capture, photo taking and data collection functions. Custom audit rating and scoring functions are included. PDF inspection reports are generated from the mobile device, or from data stored on cloud servers. The software is compatible with Apple iOS (iPhone, iPad) and Android tablets. Inspection results are sent to Inspect2GO's cloud database, or to customers' servers for storage. Advanced features include data charting, graphing and document management. Reports, trends and data feeds can be retrieved from the cloud server via a browser-based web portal. The software is not available on iTunes or the Android Marketplace. Instead, customers contact Inspect2go directly to have the software tailored to meet their unique needs.