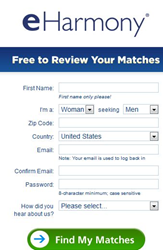 Reviews place eHarmony as the most recommended dating site because of ease of use and the features they provide members.
Vancouver, WA (PRWEB) February 28, 2015
BestDatingWebsitesReviews.com has recently made some updates to their page that focuses on reviews. The writers still place eHarmony as the most recommended dating site because of ease of use and the features they provide members.
The review reports a recent rise in eHarmony membership, increasing from 28 million to 33 million. This rise puts eHarmony even further above the rest.
eH+ is a new feature at eHarmony. The review explains that this service provides one-on-one matchmaking that is based off the foundation of eHarmony profiling. Once a person signs up for eHarmony and builds their profile through personality questions, they never have to monitor their account again. eH+ assigns a credentialed counselor to each individual, and that counselor then manages their profile by setting up dates and communication opportunities for them.
The full eHarmony review says that eHarmony is one of the most widely known dating websites online "So if someone is looking for a widely-known, widely-available site with features that aid in security of communication between themselves and their matches, then eHarmony is the right choice."
The new eH+ feature increases the sites ease of use. Not only are members taken right to their matches following the personality questions with no waiting period, but also they are now able to forgo the legwork of profile maintenance and focus on finding those they are compatible with.
If the eH+ feature or any of the other eHarmony features seem appealing, the review explains that cost of membership is well worth it. The Basic Plan is slightly less expensive than the Total Connect Plan, and gives members full access to the website. When a member signs up for the Total Connect Plan they receive the same benefits of the Basic Plan, but also receive a Premium Personality Profile, Rely ID, Secure Call, and Profile Advisor features.
With eHarmony's secure call feature, members can set up telephone calls between them and one of their matches. This happens without actually having to give out their personal phone number.
BestDatingWebsitesReviews.com says that "this is nice if you want to maintain a bit of anonymity as you're still getting to know someone that you met over the internet."
The Premium Personality Profile gives members an additional 15 pages added to their personality profile. Individuals can then make decisions regarding which information to show and what to keep private. The Profile Advisor essentially writes the profile for each Total Connect member based on the information provided.
Rely ID is a service that takes an additional step to verify that the members location, age, and name are all correct, giving their matches a sense of security.
The review explains that all of these additional features allow members to find their matches in a safe and effective way, making eHarmony still their top choice in online dating sites.