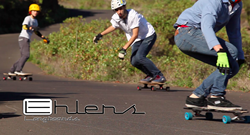 (PRWEB) April 10, 2014
This Summer, Southern California based Ehlers Longboards will be shipping orders all over the world. Ehlers Longboards will be providing the best value and selection in longboards. Each longboard is customized to specifications which customers choose from the Ehlers Longboards website.
Similar to skateboarding, longboarding is a sport that utilizes a longer and wider board than the skateboard. Longboarders prefer these types of boards because of their advanced maneuverability. Longboard competitions involve downhill racing, slalom racing and freeriding. In these competitions longboarders compete using stylish tricks and maneuvers that incorporate speed, skill and consistency.
Ryan Ehlers, founder of Ehlers Longboards, recently talked about the growing popularity of longboarding. "Longboarding is getting more and more popular. It's a sport I love. I'm dedicated to creating high quality longboards with new and innovative shape designs." Ehlers Longboards has joined a historic list of Huntington Beach, California companies that have revolutionized and popularized the trending sport of longboarding.
Their new upgraded Free Soul, reverse kingpin trucks will be a permanent feature on Ehlers Longboards. They have also added the Zaza sliding wheels as an option for a more advanced sliding board. These wheels are exclusively made from a high quality urethane factory in Orange County, California.
Customers can fully customize their Ehlers Longboard, choosing the color and part options. The boards are made to order at the facility in Huntington Beach, CA, and are shipped fully assembled and ready to ride.
A longboard has a greater dimension in both length and width than a traditional skateboard. This gives it more stability and traction, which is why it is popular for downhill skateboarding and slalom racing. They are also a top choice for cruising on streets.
Ehlers makes four types of longboards: Mini Longboards, Traditional Longboards, Drop Through Longboards and Drop Down Longboards.
ABOUT EHLERS LONGBOARDS
Founded in his garage, Ryan Ehlers took his 20 years of skateboarding passion and experience and built Ehlers Longboards to be a top innovator in the industry.