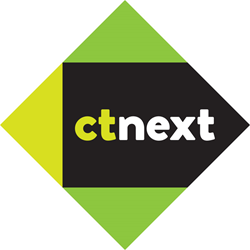 Rocky Hill, Conn. (PRWEB) July 22, 2014
CTNext, Connecticut's innovation ecosystem managed by Connecticut Innovations, which equips startups and entrepreneurs with resources, guidance and networks to accelerate growth and success, today announced the winners of the latest round of Entrepreneur Innovation Awards (EIA), which was held on Thursday, July 17, at the Long Wharf Theatre in New Haven, Conn.
Connecticut-based companies and entrepreneurs received $10,000 awards for their project ideas. They included:

*109 Design: Based in New Haven, the company is developing a medical device that gathers data and a smart phone application that relays that data to parents, physicians and patients in real time to incentivize the wearing of a back brace to treat scoliosis.
Envirowerks: Based in East Hartford, the company is developing the HodPod, a hydrogen on-demand system that increases the power provided to trucks without using more diesel.
**FRESH Farm Aquaponics: Based in South Glastonbury, this company is an aquaponic farm, raising fish and plants together in a sustainable ecosystem, developing their own growing medium and winterizing techniques.
Vesselon: Based in Darien, the company is developing the world's first device to treat stroke victims before they get to the hospital.
Why Science: Based in New Haven, the company is building a cloud-based customizable learning system that integrates current educational standards and uses students' natural curiosity to improve learning effectiveness.
*Received judges' favorite award ($2,000)
**Received crowd favorite award ($2,000)
In addition to being $10,000 winners, 109 Design also took home $2,000 for receiving the judges' favorite selection and Fresh Farm Aquaponics received $2,000 for being voted the crowd favorite selection. The Angel Investor Forum (AIF) awarded Envirowerks an additional $1,000.
"The event drew people from all areas of the ecosystem and you could feel the energy in the room," said Claire Leonardi, CEO of Connecticut Innovations. "The finalists showed just how diverse the businesses in Connecticut are and provided them with an opportunity to present in front of potential investors, partners, mentors and fellow entrepreneurs."
The full list of finalists, which were selected from nearly 60 applications, included:

109 Design
Avitus Orthopaedics
Engel Power
Envirowerks
Farm Aquaponics
Genius Box
LabCandy
Reconstructive Solutions
Vesselon
Why Science
The judge's panel consisted of the following experts:

Robin Bienemann, founder and CEO, Crimson Rook
Joe Demartino, managing director, Angel Investor Forum
Seth Feurerstein, co-founder and CEO, Cobalt Therapeutics
Richard Guha, president, Max Brand Equity
Ripi Singh, founder and president, +4Pi
To be eligible for the EIA, startups must be Connecticut-based, registered as CTNext members, and looking to conduct growth-related activities to help advance their business. A full list of the criteria can be found on the application page.
The next EIA event will be in October; the date and location will be disclosed in August. For more information on how to apply for an EIA, visit ctnext.com/eia.
CTNext was established by Governor Malloy and private-sector leaders in the 2011 Connecticut Jobs Bill to support the state's most promising entrepreneurs and start-up companies.
About Connecticut Innovations Inc.
Connecticut Innovations (CI) is the leading source of financing and ongoing support for Connecticut's innovative, growing companies. To maximize the growth potential of each business, CI tailors its solutions and often combines its funds with resources from other financial leaders to provide venture capital and strategic support for early-stage technology companies; flexible loans for established companies with new innovations; grants that support innovation and collaboration; and connections to its well-established network of partners and professionals. Through all these initiatives, CI has helped bring $4 billion in financing to Connecticut companies. The state's most active early-stage investor, CI has created more than 26,000 jobs. For more information on CI, please visit http://www.ctinnovations.com.
About CTNext:
CTNext is Connecticut's innovation ecosystem supporting the success of companies and entrepreneurs by providing guidance, resources, and networks to accelerate their growth. The statewide network connects promising companies to mentors, collaborative work spaces, universities, vendors and suppliers, and other like-minded entrepreneurs to help facilitate the growth and scalability of their business. To learn more, please visit http://www.ctnext.com.
Lauren Carmody
Connecticut Innovations
860.258.7829
Lauren.Carmody(at)ctinnovations(dot)com