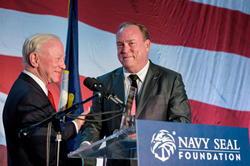 "When teamwork does not exist, we do not thrive to our full potential, either as individuals, as a family, as a company, as a military, or as a country," said Hutson. "Though you honor me with this award, the true 'fire in the gut' is everyone in this room--together as one."
DENVER (PRWEB) August 09, 2019
On Thursday, August 8th, hundreds of Denver's most patriotic citizens, including local and state executives and dignitaries, gathered at Centennial Airport's Modern Aviation for the Navy SEAL Foundation's 8th Annual Denver Evening of Tribute.
This yearly event serves to recognize the courage, commitment and many sacrifices of the Naval Special Warfare (NSW) community and it gives patriotic citizens an opportunity to show their gratitude by supporting the Navy SEAL Foundation (NSF). This year's event raised over $1 million in support of the Foundation's mission—a record amount!
As guests arrived, they were ushered to the back of Modern Aviation's luxury hangar where they socialized and enjoyed appetizers and drinks on the tarmac before transitioning to their tables inside the building. The event began with the presentation of the Colors by the Navy Honor Guard followed by a stirring rendition of our national anthem by the AMR EMS Honor Guard.
Colorado Governor Jared Polis and City of Denver Mayor Michael Hancock took the stage to jointly welcome the Navy SEAL Foundation and all of the evening's guests to Denver. They then introduced event Co-Chairs Sue and Harvey Allon. Mrs. Allon eloquently welcomed guests and graciously thanked the event sponsors for their generosity. Mr. Allon, CEO of Braddock Financial and Founder of the Denver Evening of Tribute, shared his personal connection to the NSF and the Denver event and recognized attending military members, Gold Star family members, and the evening's honored guests. He then introduced Robin King, CEO of the Foundation. Ms. King spoke about the importance of teamwork not only as it relates to SEALs and their mission success, but its importance for the Foundation and its support of these selfless warriors and families. She also shared about the Foundation's excellent record for fiscal responsibility and stewardship and thanked donors for making their programs possible.
Next, event Co-Chair Larry Mizel welcomed Senator Cory Gardner, who was a surprise guest to the event. Senator Gardner shared remarks and then presented the "Navy SEAL Foundation Fire In The Gut Award" to Mr. L. Roger Hutson, President and CEO of HRM Resources III, LLC. The "Navy SEAL Foundation's Fire In the Gut Award" is presented to an individual or organization that displays this same 'all in' quality regarding serving our military families. As he spoke, Mr. Hutson shared how his generosity and dedication to our nation's military veterans and his support of organizations that help them was just his way of doing what he could as a member of America's team. "When teamwork does not exist, we do not thrive to our full potential, either as individuals, as a family, as a company, as a military, or as a country," said Hutson. "Though you honor me with this award, the true 'fire in the gut' is everyone in this room--together as one."
After dinner, Host Committee Co-Chair Matt Flavin introduced the evening's keynote speaker, retired Vice Admiral (SEAL) Sean Pybus, Chairman of the NSF. Admiral Pybus spoke about the importance of teamwork and the challenges our nation faces. He then reminded the audience that many members of the NSW team were no longer with us because they had made the ultimate sacrifice. The audience paid respect to the 152 NSW members who have passed away since the attacks of 9/11 by sitting silently as the photos and names of the Fallen were scrolled across screens in the hangar.
Admiral Pybus then introduced Cindy Dietz-Marsh, Gold Star mother of Gunner's Mate 2nd Class (SEAL) Danny Dietz, who was killed in action on June 28, 2005, during Operation Redwings. Her tribute to "DJ" and her appreciation for the NSF and its programs which supported her family after the loss of her son, brought many in the audience to tears.
To cap off the evening, former Denver Broncos running back Reggie Rivers conducted a live auction that generated $150,000 in donations in less than 15 minutes. Host committee co-chair, Jonah Cave, tied the evening together and popular rock band Madison Rising took the stage to entertain during the after-party. Other notable attendees were Sue and Harvey Allon, Mary and Tom Bagley, Larry Mizel, Jacqueline and Kenneth Brody, Governor Jared Polis, Senator Cory Garder, and Mayor Michael Hancock, among others.
This year's Denver Evening of Tribute Co-chairs were Sue and Harvey Allon and Larry A. Mizel. Sue Allon Co-Chaired the Benefit Host Committee along with Jonah Cave and Matt Flavin. Host Committee Members included Mary K. and Thomas S. Bagley, David Coors, Mike Corbett, Robert M. Dannenberg, Michael Dauro, Cindy Dietz-Marsh, James Flavin, Eric Frohardt, Matt Grosjean, Sean Haberberger, Meredith and L. Roger Hutson, Stacy Jensen, Matt Joblon, Troy Malesky, Eric Marshall, RDML (Ret.) Scott Moore, Jody Newton, Malachi O'Neill, David Preedy, and Dan Resnick. The Event and Auction Committee Chair was Shay Haberberger.
The 2020 Navy SEAL Foundation Denver Evening of Tribute is scheduled for Thursday, August 6, 2020.
About the Navy SEAL Foundation:
The Navy SEAL Foundation's mission is to provide immediate and ongoing support and assistance to the Naval Special Warfare (NSW) community and its families.
U.S. Navy SEALs have been in sustained combat for over 18 years, performing hazardous work in unforgiving environments at an unrelenting pace. SEALs are currently deployed in over 30+ countries across the globe and can spend up to 270 days each year in harm's way. The Navy SEAL Foundation stands behind these warriors and their families by providing a comprehensive set of programs specifically designed to improve health and welfare, build and enhance resiliency, empower and educate families and provide critical support during times of illness, injury or loss.
Like the community it serves, the Navy SEAL Foundation is a high performing organization committed to excellence. NSF has received eight consecutive 4-Star ratings from Charity Navigator. It is one of less than 70 charities from among more than 9,000 to have earned a perfect score of 100 for our financial health, accountability, and transparency, placing NSF in the top 1% of the rated charities. Ninety-four cents of every dollar donated goes directly to programs or is retained for future mission use.
The Navy SEAL Foundation is a 501c3 national non-profit charitable organization. TAX-ID 31-1728910. The Navy SEAL Foundation is a non-federal entity. It is not a part of the Department of Defense or any of its components, and it has no governmental status. For more information, please visit: http://www.navySEALfoundation.org.