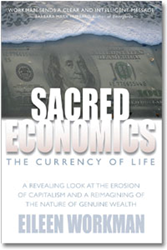 "I don't blame capitalism for the problems we face. Instead, I question why society continues to worship the aggressive growth engine that drives our global economy?" - Eileen Workman, Author, "Sacred Economics"
Santa Fe, New Mexico (PRWEB) January 15, 2014
Financial Expert/Visionary Author of "Sacred Economics: The Currency of Life," Eileen Workman is offering a 1-hour TeleCall through Hummingbird's Living School, at no charge to the public. This conversation between Eileen Workman and Rich Ruster, Ph.D. - Economic Visionary and Steward of Hummingbird Community - will focus on "Sacred Economics and the Co-Creation of Abundance."
Workman says, "We'll address current economic issues in the press, focusing on current obsessions with debts and deficits and the recent denial of extended unemployment benefits. Listeners will learn the advantages of shifting attention away from money (illusion of wealth) to real wealth, (the actual tangible resources people use and need.) I'll ask and answer common public concerns such as 'Why is debt necessary? How can society overcome greed? Why does poverty exist? Is a moneyless society possible?'"
The Workman-Ruster financial visionary team will also explain:
1) Why so many of the things our society needs to do aren't getting done
2) Ways people can shift their attitudes and behaviors to help change the economic paradigm
3) How America's patriarchal society undervalues feminine work and values, leading to fewer "paying" jobs that serve the people
Workman and Ruster will be offering Q & A time between each topic, giving listeners with questions a chance to get direct answers.
Listeners will learn innovative ways to create this new economic paradigm, re-imagine the nature of genuine wealth and help weave both masculine and feminine energies of a new, resources-based economy into a whole living organism.
Hummingbird Community states that the registration is filling up and will likely sell out. Although the call is no charge, listeners must register prior to the call. To register, please click on this link: http://www.hummingbirdlivingschool.org.
"Sacred Economics: The Currency of Life" is available at http://www.museharbor.com and Amazon.com. Formerly a First Vice President of Investments with a top international Wall Street firm, Workman is available for seminars, speaking engagements, radio and TV interviews by contacting margaux(at)museharbor(dot)com.
Workman is currently CFO of Muse Harbor Publishing, based in Sea Ranch, CA, which was founded in 2011 as an organization of "writers helping writers, in service to our readers."
Hummingbird Community provides and hosts educational programs, conferences and retreat experiences that support conscious evolution, loving relationships, regenerative living, new economics, health and well-being.
Based in Santa Barbara, "Innovative Creative Content: What Makes You Different Connects Us All" is a Content Marketing Firm focusing on successful client branding and global marketing through targeted content and storytelling campaigns. For more information, visit their website at http://www.innovativecreative.co or contact them directly at email (at) innovativecreative (dot) co.