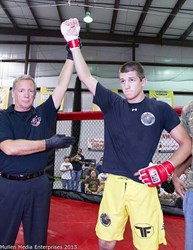 Now I want a rematch with the Stellar Fights champ. I fixed all my a holes and next time we fight I will leave the cage the belt
Belcamp, MD (PRWEB) October 01, 2013
This past weekend at Stellar Fights 18 in Middleton DE, fighters from all over the Maryland, Delaware, Virginia, Pennsylvania, and New Jersey area stepped into the cage for a chance at MMA glory. Top Flight MMA's own, Steven Eilola, was one of those fighters and he had his mind on getting another shot at the stellar fight championship, but first had to pass the very tough Steven Olan, like Eilola, a skilled striker.
This bout had high expectations for a barn burner and that's what both fighter delivered.
The bout started with Olan pressing the action looking to land his big right hand. Olan and Eilola exchanged for a bit with Olan landing a right and Eilola landing a strong left hook. Olan then pressed Eilola up against the cage in an attempt at a takedown. Eilola defended it, then landed his own hari ogoshi takedown, making Olan land on his left shoulder (which would also lead to the stoppage of the bout after the first round). Olan reversed the takedown and ended up on top of Eilola. Eilola worked back to his feet and Olan attempted another takedown. Eilola countered with a standing kimura attempt, which forced Olan to attempt another takedown. Eilola nearly secured a Jon Jones style guillotine but Olan was able to defend. On one leg, Eilola landed power shots to Olan's face which lead to Olan switching to another takedown and again Eilola defended with hari ogoshi takedown, this time landing on top. Olan managed to reverse the position yet again and ended the round on top of Eilola.
Eilola returned to his corner full of energy, feeling good, and ready to turn up the pressure and get the finish over Olan, but due the takedown Eilola landed, it caused Olan to separate his shoulder and subsequently forfeit the match leaving Eilola the victor of the short yet exciting fight.
Eilola had this to say at the end of the fight, "I'd like to thank everybody that came out; this is not the way want to win a fight and I wish Steve the best and a quick recovery. I felt good tonight and I definitely felt that I was going to get the stoppage in the second round. Now I want a rematch with the Stellar Fights champ. I fixed all my holes and next time we fight I will leave the cage with the belt."
Hopefully Eilola's next fight will be for the Stellar Fights welter weight title.
For more information on Steven Eilola or Top Flight MMA Academy email at info(at)topflightmma(dot)com or call 410-272-3799