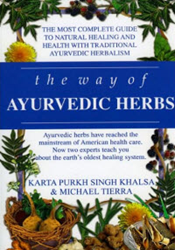 Bogota, Colombia (PRWEB) February 25, 2014
Ayurmed has recently announced that is will publish "El camino de las hierbas ayurvedicas" in Spanish. The book will be available via Amazon or directly through the publisher and through http://www.Ayurmed.org.
Michael Tierra is an herbalist and acupuncturist who has been in clinical practice in Santa Cruz, California for nearly thirty years. He integrates Chinese, Western and Ayurvedic herbal medicine and acupuncture. He is a founder of the American Herbalists Guild and is the author of numerous books, including The Way of Herbs and Planetary Herbology.
Ashwaganda for stamina and vitality.....arjuna for heart health.....dandelion for brest wellness.....gokshura to reach a sexual peak. Traditional Ayurveda, using the principles of the three doshas, constitutional body typing and highly individualized thereapies, is the oldest continuously practiced healing system on Earth. Over those many centuries, generations of Ayurvedic scholars and physicians have reviewed, inspected, dissected and refined the system to perfect a highly effective form of health, balance and healing. Now, two of the world's leading Ayurvedic herbalists, both leaders of the holistic health renaissance, and who, together, bring a total of over 75 years of practice to the work, have crafted a manual for making Ayurveda understandable and eminently, practically useful. The Way of Ayurvedic Herbs is more than an herb manual. It is a life path to well-being.
For more information, please visit http://www.ayurmed.org.