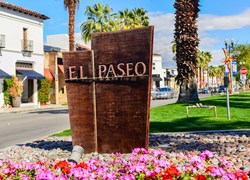 The El Paseo Art Walk has always been one of the first kickoff events of our Season here in the valley.
Palm Desert, CA (PRWEB) December 06, 2013
Brad Schmett, Broker Associate with Luxury Homes by Keller Williams announced today the commencement of the annual El Paseo Art Walk in November has already started generating increased interest from investors and luxury home buyers across the east end of the Coachella Valley. The long standing tradition of the Art Walk brings in thousands of visitors over the Season and keeps local Realtor's phones ringing.
Held on the first Friday of every month starting in November and continuing through the month of May, the El Paseo Art Walk runs from 4pm to 8pm making it the perfect way to end the work week or start a weekend of fun. Art connoisseurs from across the globe choose original pieces for their own collections and most do some real estate shopping s well while in town.
Schmett recently discussed popular event, "The El Paseo Art Walk has always been one of the first kickoff events of our Season here in the valley. The Palm Desert Art Museum along with many of our superb local galleries display original works that has become legendary in the world of fine art. It is no accident that so many of our local homeowners are also world class artists, especially in La Quinta. My office always takes great pleasure in meeting them when they come to town."
Combined with El Paseo Cruise Night and extended shopping hours at select El Paseo shops, Palm Desert is the place to spend the First Friday of each month during Season. Along with Exhibit openings, artist's receptions, fine dining at the many first class restaurants along the Walk there is plenty to see and do for the entire evening. El Paseo Courtesy Carts make it easy for any age to join the fun.
To find out more about investing in Palm Desert, CA real estate, visit http://palmdesertrealestateinfo.com.
About Luxury Homes by Keller Williams: Luxury Homes by Keller Williams – La Quinta, is an exclusive, elite and sophisticated group of real estate consultants raising the bar for service in the Palm Desert area residential real estate market.