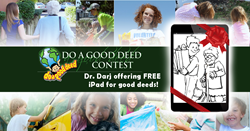 The kids of today need to feel significance through new achievements. A good deed project builds a sense of altruism and significance
El Paso, TX (PRWEB) April 16, 2015
El Paso dentist, Mehrnoosh Darj wants to encourage youths in her area to do good deeds in their community and share them with everyone. By rewarding such behavior, Dr. Darj intends to strengthen their minds and teach them to be kind and compassionate when they grow into adults. She believes this to be the basis for a healthy and rewarding life.
The contest ends in 14 days on April 30th, 2015. It is accessible to any youth 18 years of age and under. Youths are urged to submit their good deed entries in essay or video format on her Facebook page or website. The winner will receive a new iPad. The contestants are encouraged to tell about a single good deed and explain what inspired them to do that. The deeds can be either small or large, from helping a classmate with their homework to volunteering at a homeless shelter. The contestants are encouraged to be creative, not only in their choice of good deeds but also in their videos or essays.
Darj's philosophy is simple and based on the basic psychological approach of classical conditioning. Acknowledge good behavior in the present child's life and the child will continue the kindness in the future.
"The kids of today need to feel significance through new achievements. A good deed project builds a sense of altruism and significance." says Dr. Darj, "If we can start early in helping the youth of today choose between right and wrong, then the possibilities are endless."
Details of the good deed contest can be located at: http://dentistryelpasotx.com