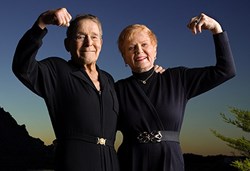 "If you are around her for any length of time, you will find her enthusiasm for life is contagious! - Jack LaLanne
(PRWEB) September 25, 2013
Elaine was only 25 at the time when she met Jack LaLanne, working as the host and talent booker for the well known Les Malloy Show at ABC-TV affiliate station KGO in San Francisco, California. They spent 51 years together changing the face of fitness forever. About his wife, Jack LaLanne who passed away in January of 2011 said:
"She can do push-ups, chin-ups; she's a terrific golfer, expert water skier, and swimmer. She's a lecturer, author, civic leader and businesswoman, in fact she runs BeFit Enterprises. She's a super wife and a good friend. To me she is living proof of all that a woman can be!" – Jack LaLanne
Gearing up for a speaking tour in 2014 where Elaine plans to share never-before-seen, inspiring stories and content with both fans of the long-running Jack LaLanne Show and younger audiences, Elaine's very motivational – and still physically powerful in-person experience incites both young and mature alike to take control of their fitness lives and wellness futures.
Visit Elaine At the Eskaton Foundation Reception at the conference: 11:00 am
Please check in at the Eskaton Booth onsite for location of the reception one hour before for onsite interviews. Elaine will be available for radio and print interviews before, during, and after her panel appearance. Please contact her press agent for details.
For up to date schedule, please refer to this press update.
http://possibilitycompany.com/2013/09/23/iconic-wellness-queen-elaine-lalanne-visits-sacramento-sept-27th/
Conference
Capital Region Women's Conference, September 27, 2013; 8:00 am to 6:00 pm, Sacramento Convention Center, 1400 J Street.
About the Women's Conference
This year's Capital Region Women's Conference, hosted by Comstock's Magazine and Healthcorps, is also sponsored by Eskaton and AARP (among others), brings together a unique, inspiring, and leading set of voices for a "Women's Health and Wealth experience to include all-day activities with a Marketplace of wealth and wellness booths, inspirational speakers, panel discussions, Google Hangouts, physical activities, food, products, libations, and networking opportunities." http://www.capregionwomen.com/ - !overview/c1yjx
Eskaton and Eskaton Foundation In Brief
Eskaton provides residences, community services and healthcare to support the independence and quality of living for more than 14,000 older adults annually throughout northern California. The nonprofit organization's full spectrum of aging services includes residential living with services, assisted living, memory care, hospice, skilled nursing, home care and multiple other special programs. Affordability, innovation, collaboration, education and compassion are Eskaton standards as it endeavors to transform the aging experience. Eskaton Foundation's primary purpose is to generate philanthropic support to further the mission of Eskaton and those they serve. Founded in 1968, Eskaton is headquartered in Carmichael, California.
About AARP
AARP is a nonprofit, nonpartisan membership organization for people age 50 and over. AARP is dedicated to enhancing quality of life for all as we age. We lead positive social change and deliver value to members through information, advocacy and service. AARP also provides a wide range of unique benefits, special products, and services for our members. These benefits include AARP Web site at http://www.aarp.org, "AARP The Magazine," and the monthly "AARP Bulletin
ELAINE LA LANNA BIO visit her website at http://www.jacklalanne.com/jacks-adventures/elaine-lalanne.php