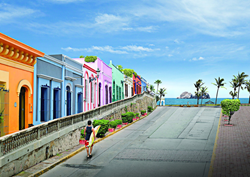 Mazatlan, Mexico (PRWEB) May 04, 2015
Each year, FDI Intelligence analyzes the best cities in The Americas and assesses each before creating its list of the Top American Cities of the Future. These cities are the ones that FDI believes will prove to be the most desirable choices in their perspective categories and are chosen based on their ability to meet the five strict criteria that the FDI uses to judge each city. The Financial Times of Britain recently released the FDI list for the top American Cities of the Future for 2015/2016, revealing how cities throughout The Americas rank in several different categories. El Cid Real Estate is pleased to share that for the second year running the beautiful and enchanting city of Mazatlán has been included on this exclusive list.
This year, in the category of the most cost effective mid-sized cities in The Americas, Mazatlán was ranked at number two out of the Mexican cities that made the list. Further, compared to all other mid-sized cities in The Americas, it was ranked number 6 for cost effectiveness. For El Cid Real Estate, the superior ranking on this prestigious list has yet again proven how remarkable Mazatlán is, not just for visitors, but for residents as well. Without a doubt, it is an outstanding city, and for those who choose to live in this vibrant location, there is always much to enjoy.
When individuals look into purchasing real estate with El Cid in Mazatlán, they will find that their luxurious Mazatlán homes put them in the middle of one of the world's most extraordinary cultures and a thrilling community as well. With fishing, days at the beach, grand local art events and festivals, plus a number of other local offerings including the Malecon and the lovely historic district, this is one place that will make everyday life seem like an endless vacation experience. Mazatlán will not disappoint those who choose it as their new home or their ideal vacation destination. Not only does this city offer great value but unforgettable life experiences as well.
Through El Cid Real Estate, individuals have the option of finding the perfect vacation property or a new home in paradise. In Mazatlán, individuals who rely on El Cid Real Estate will find a unique mix of vacation homes and residential condominiums in an exclusive resort community. Here they will find the picture-perfect place where they come each summer with their families or the ideal address where they plan to spend their days all year round. To learn more about El Cid Real Estate in Mazatlán, the Pearl of the Pacific, please visit http://www.elcidrealestate.com.
###
El Cid Real Estate Contact Information
Mazatlan
Local: (669) 916 4141 & (669) 913 0398
Local Toll-Free: 01 800 841 3369
http://www.elcidbienesraices.com.mx
US Toll-Free: 1 888 521 6011
Canada Toll Free: 1 877 392 4112
http://www.elcidrealestate.com