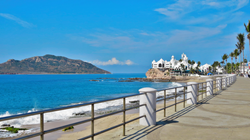 MAZATLAN, MEXICO (PRWEB) August 05, 2015
Mazatlán is once again gaining popularity as both a global tourist destination and retirement location for many.
According to El Cid Real Estate, the current renaissance in Mazatlán's historic district – a vibrant mix of contemporary art, traditional and fine dining, colonial architecture, and affordability -- has drawn many people back to this thriving beachfront city.
While more than a million American expats and retirees currently call Mexico home, the country has received bad press in recent years. Unfortunately, people have judged the entire nation based on incidents in a few areas, El Cid Real Estate says. There are regions in Mexico that are still suffering from the recent worldwide recession, but cities like Mazatlán have recovered and are continuing to grow.
Excellent Weather: A full day's drive from the U.S. border, Mazatlán is popular among North American travelers and retirees for its warm winter weather. The daytime temperatures range in the high 70s, while the nights may drop to the low 60s. Summer through fall, the city's average temperatures are in the 80´s.
Won't Break the Bank: Better yet, says El Cid Real Estate, the cost of living in Mazatlán is highly affordable and cheaper than ever. At today's exchange rate, a U.S. dollar today buys approximately 15.38 pesos. For retirees looking for a convenient part of the city that is central and well-established, El Cid Real Estate says the Golden Zone may be the best choice. This exclusive and well-maintained golf and marina community – located mere minutes from beautiful beaches, world-class sport fishing and country club living – makes it the ideal choice for someone looking to build their dream home.
Investment: For people who are close to retirement and looking to invest, the rental market in Mazatlán is active throughout the year, according to El Cid Real Estate. Smart investors can purchase a luxury home and rent it out to help pay off the mortgage. In that same vein, retirees can supplement their retirement income by purchasing and renting property here as well.
Culture: Besides the beaches and nightlife, Mazatlán is also a burgeoning cultural center. Plaza Machado has its fair share of outdoor cafes and international restaurants, while the nearby historic Teatro Ángela Peralta showcases musicians, plays and other live events.
Mazatlán offers a wide variety of options for retirees. Taking the time to research the city and its amenities will be enough to convince even the most skeptical of people, El Cid Real Estate believes.
El Cid Real Estate in Mazatlán has more than 40 years of real estate experience. Clients can locate the vacation property of their dreams right here in the "Pearl of the Pacific." To learn more, visit http://www.elcidrealestate.com.
###
El Cid Real Estate Contact Information
Mazatlan
Local: (669) 916 4141 & (669) 913 0398
Local Toll-Free: 01 800 841 3369
http://www.elcidbienesraices.com.mx
US Toll-Free: 1 888 521 6011
Canada Toll Free: 1 877 392 4112
http://www.elcidrealestate.com