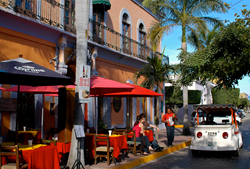 MAZATLAN, MEXICO (PRWEB) August 06, 2015
For the third consecutive year, representatives of the city received the "Best Cultural Group" award for their float and participation at the Calgary Stampede's opening parade.
The Stampede is a nonprofit community organization that works to preserve and celebrate Canada's western heritage, culture and community spirit. Besides the 10-day Stampede celebration, there are year-round facilities that support and encourage both youth and agricultural programs. Those programs and other cultural activities are highlighted during the event. According to El Cid Real Estate, all money made from the event is reinvested into the Calgary Stampede's programs and facilities.
"Thank you to all the participants of this year's Parade and congratulations to the award winners – we couldn't have done it without you," says Mayne Root, the Parade Committee chair, in a recent interview. "We are honored to have had these spectacular entries make this Parade one in which we will all remember for a lifetime."
More than one million people attended the event, so Mazatlán was able to represent its culture and heritage to a large audience of people from around the world. The runner-up was the Korean Association.
El Cid Real Estate says the goal of the Calgary Stampede, which has been held in Calgary since 1912, is to celebrate the people, animals, land, traditions and the values that make up the unique spirit of the west. The Stampede's theme is "We're Greatest Together," which is exemplified by the fact that it is a volunteer-supported organization.
Besides the parade and rodeo, the Calgary Stampede also featured many other events, including a dog show, an extreme sports demonstration, concerts by world-famous artists, and agricultural competitions.
El Cid Real Estate in Mazatlán has more than 40 years of real estate experience. Clients can locate the vacation property of their dreams right here in the "Pearl of the Pacific." To learn more, visit http://www.elcidrealestate.com.
###
El Cid Real Estate Contact Information
Mazatlan
Local: (669) 916 4141 & (669) 913 0398
Local Toll-Free: 01 800 841 3369
http://www.elcidbienesraices.com.mx
US Toll-Free: 1 888 521 6011
Canada Toll Free: 1 877 392 4112
http://www.elcidrealestate.com