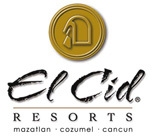 Mazatlan, Mexico (PRWEB) March 05, 2015
El Cid offers a variety of resorts in several locations throughout Mexico. With a selection of packages available, El Cid Resorts strives to offer a unique customized vacation to every traveler's style. Guests can choose to visit Mazatlan, Riviera Maya or Cozumel to stay at an El Cid property.
Spring is a popular season for travelers to head south to Mexico. With resorts on both the Mexican Pacific and the Caribbean (east) coast, visitors from all over the US and Canada can experience a luxurious El Cid vacation close to home. The following are just a few of the many specials available to escape the cold and enjoy paradise at El Cid Resorts.
The Spring Fling sale is a great way for guests to experience the amazing island of Cozumel at great savings. El Cid La Ceiba Beach Resort is the setting for this wonderful promotion where guests can enjoy up to 65% off their stay. With this wonderful incentive, children under 12 can also stay and play free! This amazing sale can also be taken advantage of in historic Mazatlan. The Pearl of the Pacific is an ideal place to spend a well-deserved tropical holiday. El Cid Resorts boasts several stunning properties in Mazatlan, providing guests with a variety of options to enjoy this historic destination. El Cid Castilla Beach resort, in Mazatlan, offers this package with savings of up to 70%.
Back to the East coast of Mexico, but this time on the mainland just south of Cancun, guests can also enjoy the Spring Fling special and stay at Hotel Marina El Cid Spa & Beach Resort located in Riviera Maya. From mid-April through early July of 2015, a discount of up to 55% can be enjoyed at this luxury All Inclusive resort. In addition to the discount, a $600 USD resort credit coupon book is included on stays of 5 nights or more.
These are just a few of the numerous specials that El Cid Resorts has created for the Spring and Summer season of 2015. For more information on how to plan a trip to paradise, please visit http://www.elcid.com/specials/ or call us today to plan a visit and add some sunshine, surf and sand to your spring this year.
About El Cid Resorts –
El Cid Resorts owns a collection of six luxury hotels in three destinations which it has managed for over four decades. With resort options in Mazatlan, Cancun, and Cozumel, Mexico, El Cid provides some of the best vacation experiences available. By offering a wide variety of services, amenities, and different meal plan options including all-inclusive, guests can customize their vacation to suit their needs. El Cid Resorts in Mexico has been honored with customer choice awards from companies such as Trip Advisor, AAA, and other quality travel companies. For more information on El Cid Resorts please visit - http://www.elcid.com.
###
El Cid Resorts Contact Information
International
Toll-Free: 1 866 306 6113
http://www.elcid.com
Within Mexico
Mazatlan Toll-Free: 01 800 716 9800
Riviera Maya Toll-Free: 01 800 003 6292
Cozumel Toll-Free: 01 800 670 3277
http://www.elcid.com.mx