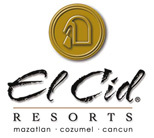 Mazatlan, Mexico (PRWEB) March 19, 2015
When planning a warm tropical vacation to Mexico, water sports and activities rank high on many visitors' wish lists. For the destinations in which El Cid Resorts operates, pool and beach activities are present and popular. Recently, El Cid Resorts took additional measures to ensure their guests' safety and security while supporting the local community.
El Cid Resorts recently donated uniforms to Mazatlán's Lifeguard Squad, a group sanctioned by the state's department of protection, to safeguard Mazatlán's beachgoers. This donation assisted the aquatic rescue team by allowing them to preserve their funds for additional training and equipment rather than uniforms. Mazatlán, Cancun and Cozumel are three of the most important tourist destinations in Mexico, famous for beach activities, water sports and diving; lifeguards are vital to make sure everyone stays safe while enjoying the ocean waters. Pool safety is also very important as El Cid's six properties have a dozen swimming pools on the resorts' grounds. All the swimming pools and beaches are staffed with licensed lifeguards, who add extra security for guests of all ages.
El Cid Resorts, a leader in the resort industry, strives to provide the most flexible resort options while taking guest comfort and safety into account. Some of the most important services provided by the resorts often go unnoticed but are vital to safety and security of guests. As a responsible resort group, these types of donations and additions are common practice at El Cid Resorts. The emergency response skills of the increased number of lifeguards on the beaches of Mazatlan assist guests, tourists, and locals alike. There is an obvious need for these potentially life saving teams in any area wherever water activities are present.
There are many reasons why so many people continue to choose El Cid Resorts for their vacation. Guest safety is always important, and while vacationing with El Cid, guests can be sure that their safety has been accounted for and they can enjoy the beautiful waters for which Mexico is famous!
About El Cid Resorts –
El Cid Resorts owns a collection of six luxury hotels in three Mexico beach destinations, which it has managed for over four decades. With resort options in Mazatlan, Riviera Maya, and Cozumel, El Cid provides some of the best vacation experiences available. By offering a wide variety of services, amenities, and different meal plan options including all-inclusive, guests can customize their vacation to suit their needs. El Cid Resorts in Mexico has been honored with customer choice awards from companies such as TripAdvisor, AAA, Check Safety First and other quality travel companies. For more information on El Cid Resorts please visit - http://www.elcid.com.
###
El Cid Resorts Contact Information
International
Toll-Free: 1 866 306 6113
http://www.elcid.com
Within Mexico
Mazatlan Toll-Free: 01 800 716 9800
Riviera Maya Toll-Free: 01 800 003 6292
Cozumel Toll-Free: 01 800 670 3277
http://www.elcid.com.mx