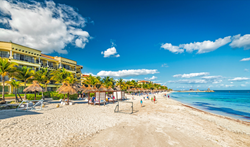 Cancun, Mexico (PRWEB) July 08, 2015
One of the most exhausting portions of any vacation is traveling to and from your destination, especially if there are layovers for your flight. Travelers from Birmingham or Memphis who want to visit El Cid Resorts in Cancun, for example, might have to suffer a layover in Atlanta or Miami before finally making it to this tropical paradise.
According to El Cid Resorts, Birmingham and Memphis vacationers are in luck as there are now non-stop flights from both area airports directly to Cancun. Vacation Express is flying travelers out of Birmingham-Shuttlesworth International Airport directly to Cancun International Airport now through Aug. 2. Flights from Memphis International Airport to Cancun will end on Aug. 4. The flights are operated by Swift Air, LLC., using their B737-400 planes. The flights will include a limited complimentary bar, snacks and a free checked bag per person up to 44 pounds.
The two-hour flights from Birmingham depart every Sunday. Vacation Express' flights are currently the sole international, non-stop flights to beautiful Cancun for travelers out of Birmingham.
"We at the Birmingham-Shuttlesworth International Airport appreciate the opportunity to work with Vacation Express to bring this non-stop international flight to Birmingham," said Alfonso Denson, president and CEO of the Birmingham Airport Authority. "We hope that the communities in and around Birmingham will take advantage of this service so that it will return year after year to new and more beautiful destinations."
In addition to the Birmingham flights, Vacation Express will fly out from Memphis International Airport midday every Monday for vacationers headed to El Cid Resorts. The flights will return on Sundays.
"This is yet another step to provide frequent and affordable air service, and we are excited to provide these new nonstop options for our travelers," said Scott Brockman, president and CEO of the Memphis-Shelby County Airport Authority.
El Cid Resorts boasts gorgeous and tranquil resorts in Cancun, Cozumel and Mazatlán. Travelers the world over will enjoy the company's top-notch customer service, numerous amenities and stunning locations when they book a trip to the fabulous beaches of Mexico this summer.
About El Cid Resorts –
El Cid Resorts owns a collection of six luxury hotels in three destinations which it has managed for over four decades. With resort options in Mazatlan, Cancun, and Cozumel, Mexico, El Cid provides some of the best vacation experiences available. By offering a wide variety of services, amenities, and different meal plan options including all-inclusive, guests can customize their vacation to suit their needs. El Cid Resorts in Mexico has been honored with customer choice awards from companies such as TripAdvisor, AAA, and other quality travel companies. For more information on El Cid Resorts please visit http://www.elcid.com.
###
El Cid Resorts Contact Information
International
Toll-Free: 1 866 306 6113
http://www.elcid.com
Within Mexico
Mazatlan Toll-Free: 01 800 716 9800
Riviera Maya Toll-Free: 01 800 003 6292
Cozumel Toll-Free: 01 800 670 3277
http://www.elcid.com.mx