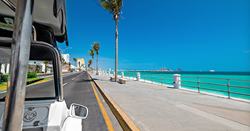 MAZATLÁN, MEXICO (PRWEB) August 03, 2015
With the growing popularity of Mexican coastal towns as prime locations for world travelers and retirees, many airlines are increasing the number and frequency of flights into cities like Mazatlán and Cancun, says El Cid Resorts.
In a recent release, American Airlines announced it is planning to expand its presence in Mexico – as well as the Caribbean and Latin America – with eight new routes later this year. According to El Cid Resorts, this expanded service will include new twice-daily service from Los Angeles to Mexico City, which will begin September 3. American Airlines has also scheduled two weekend flights from LAX to Mazatlán beginning November 7. The airline is taking bookings for the Los Angeles to Mazatlán and Los Angeles to Mexico City routes now.
Aeromexico also made its own announcement about increased flights around the country, says El Cid Resorts. Mexico's global airline announced it will begin its new daily service between Mexico City to Cozumel on October 1 with 50 passenger seats leaving Mexico City at noon and arriving in Cozumel at 2:22 daily. The return Cozumel-to-Mexico City flight leaves at 2:50 p.m. and arrives at 5:22 p.m. daily. That is a total of 700 weekly seats between the two popular cities, meaning travelers who have layover in Mexico City will have more options to choose from when trying to get to Cozumel.
Increased flights throughout Mexico only make it easier for travelers to get to and from their destinations around the country. Tourists are encouraged to check not only American Airlines and Aeromexico, but also other airlines throughout the world as many of them may have also created more flights to Mexico. More departures also mean fewer chances for missed flights or flight delays, as well as more options for when to leave a vacation destination. People can now book a flight out from Cozumel later in the day so they can get in one more authentic Mexican meal or purchase that special item they had their eye on the entire trip.
Visitors to Mexico may enjoy true Mexican hospitality through El Cid Resorts' vacation getaways in Mazatlán, Cozumel and Riviera Maya. To learn more about El Cid Resorts, visit http://www.elcid.com.
###
El Cid Vacations Club Contact Information:
El Cid Vacations Club
Av. Camarón Sábalo S /N Centro Comercial El Cid.
Mazatlán, Sin. México C.P. 82110
Phone +52 669 913 3333
Fax +52 669 916 0665
Email: ownersrelations(at)elcid(dot)com(dot)mx