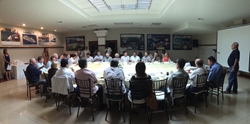 Mazatlán, Mexico (PRWEB) June 08, 2015
For any travelers who haven't taken the opportunity to visit Mexico, Marina El Cid Mazatlán knows that spending time in this beautiful country will be one of the best decisions they can make. All those who gather in this wonderful seaside destination will soon discover the close access to a variety of exciting entertainment and vacation activities. Some of the country's most popular pastimes are now becoming more accessible than ever thanks to a recent trade mission established by Southern Californian and Mexican associations joining forces.
For those who are unfamiliar with the recent project, the Sport Fishing Association of California, along with the San Diego Port Tenants Association recently created a joint mission to determine whether Mazatlán's Pacific Ocean Port could be used in order to restore commerce and trade once again. This partnership not only allows Southern California and Mexico to create a better transit system, but also promotes tourism as well. This is exciting news for many residents of Mazatlán, since it means the port is ready to return to its former status as both a marine recreation and cruise ship destination.
The trade mission took place on Thursday, April 30 through Sunday, May 3, 2015, and was a follow-up to a recent meeting in Mexico City. The Mazatlán stop included a tour of the city for all the members of both groups, including the cruise ship terminal. Now travelers who visit Mazatlán will have even more to look forward to during their stay. Many might not be aware of the beautiful marinas, sport fishing and marine recreation. All of the recent advances are sure to increase tourism in Mexico, and El Cid Marina Beach.
Marina El Cid Mazatlán shares that members of both organizations commented on the measures taken for safety in the area as being a top reason visitors who do spend time in the area will be assured they can have a fun and safe time diving, sport-fishing, yachting as well as all of the other marine-related activities in the area. For all those who want to plan the perfect vacation, look no further. Contact Marina El Cid Mazatlán today in order to start the planning process at the official website: http://www.elcidmarinas.com.
El Cid Resorts features a world-class pair of marinas in Mazatlan and Riviera Maya, Mexico, providing professional docking and marina services, sailing and cruising charters, sport fishing, and excursions through Aires Fleet in Mazatlan and Puerto Morelos Sportfishing Fleet in Riviera Maya. These fully equipped marinas offer an unparalleled level of comfort and service.
###
El Cid Marinas Contact Information
Mazatlan
Local: (669) 916 3468
Local Toll-Free: 01 800 841 0560
Riviera Maya
Local: (998) 285 9186
Local No Toll: 1 800 841 0896
http://www.elcidmarinas.com.mx/
US Toll-Free: 1 855 203 9860
http://www.elcidmarinas.com/
International
Toll-Free: 1 855 513 4080