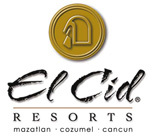 Mazatlan, Mexico (PRWEB) February 20, 2015
By far one of the most popular winter/spring activities to enjoy in Mazatlan is whale watching. From mid-November through the end of March are the peak times to see whales off the Mexican coast. California grey whales and humpback whales make the journey south to the warm waters off of Mazatlan to give birth to their calves. Having traveled all the way from Alaskan waters, this annual journey is truly one of nature's wonders.
Whale watching is an absolutely wonderful experience, one that frequent visitors and locals will recommend highly. El Cid Marinas are fully equipped with different types of boats so if visitors wish to plan a private charter to see these wonderful creatures, they can easily do so. Witnessing these beautiful mammals and their young calves breaching is truly a breathtaking experience. You will also spot dolphins, giant sea turtles and possibly manta rays, as well. By boat, visitors can view the whales from a safe distance so the whales are secure in their environment while spectators can snap pictures and enjoy the scenery.
Mazatlan enjoys a very mild winter and spring climate, with daily high temperatures in the mid 80-Fahrenheit range and lows only in the 60's, high 50's. With such wonderful weather, a tour such as a whale watching excursion is not only easy but also enjoyable. Mazatlan also offers beautiful scenery with several islands and coves which make for perfect cover and calm waters for the whales to calve and teach their young to breach.
This sets the stage for the perfect tour to plan a short or long trip on the Pacific Ocean. El Cid Marinas offer a variety of sizes of boats depending on how long and how many people want to head out on the water. It is important to remember to bring essentials while on the water, such as snacks, refreshments, sunscreen, and of course a camera or recording device. Although the majority of the whale watching tours are relatively close to shore, visitors should remember that being on the water is remote and this truly is the epitome of experiencing nature.
For nature lovers and those looking to participate in an experience that encompasses both relaxation and excitement, El Cid highly recommends reserving a whale watching tour. Visitors are sure to have an amazing time and experience an activity that will definitely be labeled as an experience to remember. Tours such as these are the very things that make a good vacation turn into a great vacation. For more information please visit - http://www.elcidmarinas.com/destinations/mazatlan/tours/whale-watching-tours
###
El Cid Marinas Contact Information
Mazatlan
Local: (669) 916 3468
Local Toll-Free: 01 800 841 0560
Riviera Maya
Local: (998) 285 9186
Local Toll-Free: 1 800 841 0896
http://www.elcidmarinas.com.mx/
US Toll-Free: 1 855 203 9860
http://www.elcidmarinas.com/
International
Toll-Free: 1 855 513 4080