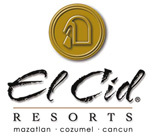 Mazatlan, Mexico (PRWEB) March 04, 2015
El Cid Resorts, offering a collection of six hotels in three destinations, is well known throughout Mexico. One of the reasons El Cid is so well known and highly regarded is the flexibility and booking options made available to guests. When guests choose to vacation at an El Cid Resort, they can rest assured that the style of vacation they are accustomed to is going to be available for them to enjoy.
Guests of El Cid Resorts can customize a vacation package to suit their needs and interests while on vacation. One of the most exclusive and popular packages El Cid provides is the All-inclusive Elite level for guests. Visitors can select the Elite level and take advantage of an array of wonderful services and amenities available to elite status guests. One of El Cid's most popular resorts, El Cid Marina Beach in Mazatlan, recently added an Elite Club which offers several exclusive amenities for guests to experience.
El Cid's new Elite Club provides guests with a private and very comfortable area where complimentary refreshments, snacks, as well as a business center and check-in area are available only to these guests. The private lounge also has a concierge to assist with any onsite or offsite activities. Guests can use the Elite Lounge at their leisure to connect with friends and family via the business center, or just relax and watch sporting events or other TV shows in the comfort of this exclusive lounge.
Since the opening of this new lounge, guest reviews have highly praised this addition. The new lounge has created a private area for guests to check-in with the Elite Club attendant who helps ensure each guest's needs are met. In keeping with the goal of creating a style for every traveler, the Elite Lounge has added a new level of comfort and relaxation for guests to begin enjoying their vacations from the moment they arrive.
The addition of the Elite lounge has been very well received at El Cid Marina Beach, which is reviewed as one of the most popular resorts in Mazatlan. This beautiful and tranquil resort boasts a fabulous location on the Marina. It offers a private beach available by water taxi along with stunning pools, swim-up bars and views from numerous vantage points. This new El Cid addition is one that is very important to many travelers and an example of El Cid's endless quest to provide the best service and quality possible to guests. Given that El Cid offers numerous levels of service and amenities, there is always a level available to satisfy every travel style.
About El Cid Resorts – El Cid Resorts owns a collection of six luxury hotels in three destinations which it has managed for over four decades. With resort options in Mazatlan, Cancun, and Cozumel, Mexico, El Cid provides some of the best vacation experiences available. By offering a wide variety of services, amenities, and different meal plan options including all-inclusive, guests can customize their vacation to suit their needs. El Cid Resorts in Mexico has been honored with customer choice awards from companies such as Trip Advisor, AAA, and other quality travel companies. For more information on El Cid Resorts please visit - http://www.elcid.com.
###
El Cid Resorts Contact Information
International
Toll-Free: 1 866 306 6113
http://www.elcid.com
Within Mexico
Mazatlan Toll-Free: 01 800 716 9800
Riviera Maya Toll-Free: 01 800 003 6292
Cozumel Toll-Free: 01 800 670 3277
http://www.elcid.com.mx