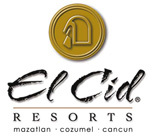 Mazatlan, Mexico (PRWEB) March 20, 2015
Mexico is a beautiful country rich in culture and history that offers a wide variety of stunning destinations. From jungles and mountain towns to charming villages and popular beaches, Mexico affords millions of travelers a dream vacation each and every year. One of the many reasons Mexico has become so popular is due to the beauty of the beaches visitors can enjoy. From the Pacific Ocean to the Caribbean Sea, there is no lack of stunning locations.
El Cid Resorts, a collection of six hotels, offers accommodations in Mazatlan, Cancun and Cozumel; three destinations that recently made the Best of Mexico list. U.S. News & World Report Travel recently released the list of most popular and "best" places to visit in Mexico, and Mazatlan, Cancun and Cozumel are in the top five!
For visitors who have experienced the beauty of these three destinations, this list may not come as a surprise. El Cid Resorts prides itself in offering the best in luxury accommodations in Mexico. Aside from the resort experience, the destination is equally important to El Cid, which is why it chose to own and operate hotels in these three destinations.
There is a tremendous amount of diversity in the locations included on this Best of Mexico list. Riviera Maya, bordering Cancun, is one of the most beautiful beach destinations in the world where visitors can enjoy the true wonders of nature. Cozumel offers several world-renowned diving opportunities. This tropical island provides turquoise waters and pristine, white sandy beaches to enjoy. While Mazatlan, dubbed the Pearl of the Pacific, is one of the most popular Pacific beach destinations featuring fabulous views of the nearby islands and miles of sandy, golden beaches. While each destination may be different, they all provide visitors the opportunity to sit back, relax and enjoy the best of Mexico.
These destinations cater annually to visitors from all over the world. Several major North American airports provide flights to the east and west coast of Mexico that are typically less than five hours in length. It is very easy to visit Mexico and enjoy its beauty and culture. The time to plan a vacation to paradise is now!
About El Cid Resorts –
El Cid Resorts owns a collection of six luxury hotels in three destinations, which it has managed for over four decades. With resort options in Mazatlan, Riviera Maya/Cancun, and Cozumel, Mexico, El Cid provides some of the best vacation experiences available. By offering a wide variety of services, amenities, and different meal plan options including all-inclusive, guests can customize their vacation to suit their needs. El Cid Resorts in Mexico has been honored with customer choice awards from companies such as Trip Advisor, AAA, Check Safety First, and other quality travel companies. For more information on El Cid Resorts please visit - http://www.elcid.com.
###
El Cid Resorts Contact Information
International
Toll-Free: 1 866 306 6113
http://www.elcid.com
Within Mexico
Mazatlan Toll-Free: 01 800 716 9800
Riviera Maya Toll-Free: 01 800 003 6292
Cozumel Toll-Free: 01 800 670 3277
http://www.elcid.com.mx