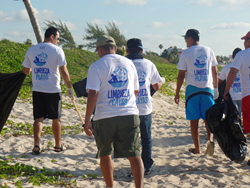 Mazatlan, Mexico (PRWEB) May 06, 2015
The Hotel Marina El Cid Spa & Beach Resort is not just committed to offering guests the most remarkable vacations of their lifetimes; it is also committed to giving back to the local Rivera Maya community and doing good work for the environment as well. The El Cid Resorts team supports these important values year round, and through this devotion, the El Cid brand has been able to carry out a number of missions to support people in the local community as well as keep the beaches and the waters of the surrounding area sparkling and beautiful.
In fact, each year the Hotel Marina El Cid Spa & Beach Resort holds a special clean up event on the beaches of the Riviera Maya. 2015 was the third year that El Cid Resorts hosted this event with the goal of preserving the lovely beaches of the area and promoting the importance of keeping these beaches free of trash and pollution. This year's event was held on the 21st of March as a part of a World Water Day celebration and was the perfect way for the resort, its team, and even some of its guests, to give back to the environment and work to stop pollution from destroying this paradise.
More than 100 individuals came out to participate in this El Cid Resort beach clean-up this past March. Led by the Green Brigade at El Cid, this event took participants to the beach and Boulevard El Cid to clean up trash over a stretch of 2 km. After the clean-up, the wonderful volunteers and participants took the trash to a special area where they continued to help the mission by sorting the solid waste materials. Once the hours of work to clean up the beach had been completed, helpers were rewarded with a tour of the property's mangroves and beaches. All together, the group was able to collect 325 kg of trash, including plastic and pieces of wood waste from ships, and remove it from the beach. The Hotel Marina El Cid Spa & Beach Resort knows that the day was a success and another step towards keeping these beaches clean and beautiful for years to come. El Cid Resorts offers its most sincere thanks to all who participated.
Through El Cid Resorts, travelers are able to visit some of the most exclusive and extraordinary travel destinations in all of Mexico. At these resorts, they can also enjoy luxury and top of the line customer service while appreciating the beauty of areas like Mazatlán, the Riviera Maya, and Cozumel. With every need met for them, individuals can feel truly welcome when they stay at the unique and welcoming El Cid Resorts.
About El Cid Resorts –
El Cid Resorts owns a collection of six luxury hotels in three Mexico beach destinations, which it has managed for over four decades. With resort options in Mazatlan, Riviera Maya, and Cozumel, El Cid provides some of the best vacation experiences available. By offering a wide variety of services, amenities, and different meal plan options including all-inclusive, guests can customize their vacation to suit their needs. El Cid Resorts in Mexico has been honored with customer choice awards from companies such as TripAdvisor, AAA, Check Safety First and other quality travel companies. For more information on El Cid Resorts please visit - http://www.elcid.com.
###
El Cid Resorts Contact Information
International
Toll-Free: 1 866 306 6113
http://www.elcid.com
Within Mexico
Mazatlan Toll-Free: 01 800 716 9800
Riviera Maya Toll-Free: 01 800 003 6292
Cozumel Toll-Free: 01 800 670 3277
http://www.elcid.com.mx