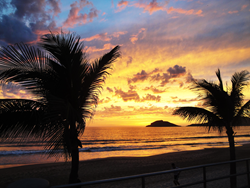 MAZATLAN, MEXICO (PRWEB) September 23, 2015
El Cid Resorts knows that the keys to a great vacation experience are memorable moments with friends, family, and loved ones. One of the most memorable experiences that travelers can share with one another are beautiful moments like catching the sun setting across beautiful Pacific Ocean. With an evening horizon that is truly one of the most scenic in the world, Mazatlán, Mexico is certainly the one paradise vacation destination that is not to be missed. Being right on the coast, the location is truly ideal to enjoy the views of the Pacific which makes sunset a truly special time in Mazatlán.
El Cid Resorts wants travelers to experience these beautiful moments and are happy to announce that the Atardecer Musical takes place each day from five to seven in the evening at Parque Zaragoza, completely free of charge. Travelers will not want to miss out on this opportunity to spend some time relaxing in the beautiful park after a long day of sightseeing and activities. There are several benches and areas to sit and relax with a perfect view to the west to enjoy the sky lighting up, while relaxing music makes the experience very unique.
El Cid Resorts knows that leading up to the beautiful evenings in Parque Zaragoza, travelers will not want to miss out on checking out the charming Malecon boardwalk. Spanning the Pacific coast for several miles, the Malecon offers travelers some gorgeous vistas to look out at the ocean from, while also providing an abundance of shopping and dining experiences. The strip is an excellent way for travelers to take a jog, a bike ride, or a pleasant walk to work up an appetite for one of the Malecon's world-class restaurants. Mazatlán boasts the longest Malecon in Mexico, and from this scenic boardwalk there are literally hundreds of places to catch a view of the sun setting over the islands and ocean— it is a very special place.
Travelers looking for an unforgettable vacation destination will want to let El Cid Resorts cater to their every need and allow them to experience the sheer beauty that only a visit to Mazatlán, Riviera Maya or Cozumel can bring in. To learn more about El Cid Resorts and plan a trip this fall please visit - http://www.elcid.com/specials or call 1.866.306.6113.
###
El Cid Resorts Contact Information
International
Toll-Free: 1 866 306 6113
http://www.elcid.com
Within Mexico
Mazatlan Toll-Free: 01 800 716 9800
Riviera Maya Toll-Free: 01 800 003 6292
Cozumel Toll-Free: 01 800 670 3277
http://www.elcid.com.mx