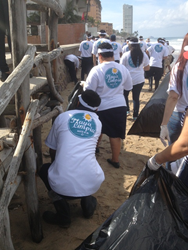 Mazatlan, Mexico (PRWEB) June 10, 2015
El Cid Mazatlán knows every vacationer deserves to have the very best experience possible during their vacations, and it's important to find a provider that offers everything they dream of and more. Spending time in well-appointed accommodations with top of the line amenities, as well as being treated to some of the best customer service in the business are all things everyone who visits El Cid Resorts in Mazatlán will discover.
One of the most fun activities any traveler who visits El Cid Mazatlán soon discovers is spending the day at the beautiful beaches in the area. Soaking up the sun, enjoying the beach, and taking advantage of great water sports is something for which Mexico is celebrated. Many people specifically come to the area to visit the beaches, some of which are world renowned. But it is true that, over time, the beach areas can become littered and dirty due to the numerous visitors each year. That is part of the reason the El Cid Mazatlán staff spearheaded a clean-up program that included volunteers who were staying at the resort. Not only is it a lot of fun to pitch in and help Mother Nature, but it also helps show the true beauty of the area, and create memories vacationers will never forget.
The beach clean-up program, under the slogan "Leave Nothing but Footsteps," is part of El Cid Group Foundation eco-friendly initiatives in support of the protection of the environment for all the residents and tourists who spend time in the Mazatlán area. The 2015 summer season is underway, and clean-up crews have already been spotted along the sand taking the time to make the beach an ever better place than ever.
El Cid Mazatlán hopes that every traveler out there takes the time to find ways to make their community a better place, since it is something that is a strong focus of both the resort and all those who work there. That is the exact focus of the beach clean-up program, and the recent beach cleaning project was only the first of the season. All those travelers out there who hope to organize their own event or participate in any upcoming projects should contact El Cid Mazatlán. For more information, visit El Cid Mazatlán online at http://www.elcid.com.
El Cid Resorts owns a collection of six luxury hotels in three destinations which it has managed for over four decades. With resort options in Mazatlan, Cancun, and Cozumel, Mexico, El Cid provides some of the best vacation experiences available. By offering a wide variety of services, amenities, and different meal plan options, including all-inclusive, guests can customize their vacation to suit their needs. El Cid Resorts in Mexico has been honored with customer choice awards from companies such as TripAdvisor, AAA, and other quality travel companies. For more information on El Cid Resorts please visit http://www.elcid.com.
###
El Cid Resorts Contact Information
International
Toll-Free: 1 866 306 6113
http://www.elcid.com
Within Mexico Toll-Free
Mazatlan : 01 800 716 9800
Riviera Maya : 01 800 003 6292
Cozumel : 01 800 670 3277
http://www.elcid.com.mx