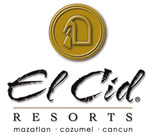 Mazatlan, Mexico (PRWEB) March 23, 2015
Mazatlan is an absolute paradise for sporting enthusiasts, offering amazing fishing and a variety of hunting opportunities. Being on the Pacific Ocean, Mazatlan enjoys a very unique location at the entrance to the Sea of Cortez. The waters off of Mazatlan are some of richest deep sea fishing waters in the world coupled with excellent bass fishing in nearby lakes. Wonderful conditions for fishing are ready to be experienced.
Outstanding duck and dove hunting is prevalent in Mazatlan during the winter months, and El Cid Resorts was honored to host the cast and crew of the Sportsman Channel's team, The Sporting Chef. Scott Leysath, The Sporting Chef host, appears on several outdoor and sporting programs. The Mazatlan episodes filmed by Chef Leysath and the team will feature local fish and wild game recipes. In fact, many dishes were prepared at El Cid Castilla Beach and El Cid Marina Beach resorts with onsite chefs. This was a treat not only for guests, but also for the chefs and employees to experience the culinary creations of The Sporting Chef.
For a week in February, truly one of the best months of the year to visit Mazatlan, El Cid Resorts played host to The Sporting Chef team and the camera crew from Camp Chef. "El Cid has the best contacts for all outdoor pursuits, including hunting, fishing, eco tours and anything else that allows you to experience all that Mazatlan has to offer," states Scott Leysath. "We're always a little apprehensive about whether reality will meet expectations when we travel and El Cid went above and beyond." Mazatlan is famous for its history, culture and the charm of the Historic District. El Cid Resorts guests should also know that there is so much that can be experienced in terms of outdoor activities in Mazatlan. Of course sport fishing is a major draw to Mazatlan but there is so much more for hunting and outdoors enthusiasts to experience. When visiting Mazatlan, ask an El Cid Resorts concierge or activities director about these wonderful activities, and do not miss any of what beautiful Mazatlan has to offer!
About The Sporting Chef –
Sportsman Channel's The Sporting Chef is hosted by Scott Leysath. Scott Leysath is an accomplished author, radio, TV host, and, of course, chef and outdoor enthusiast. The popular hunting and fishing series provides excellent recipes to prepare wild game and fresh fish into wonderful culinary experiences. The team travels to different regions of the world to experience the fishing and hunting, and prepare delicious meals from the daily hunt or catch! For more information about The Sporting Chef, visit their website.
About El Cid Resorts –
El Cid Resorts owns a collection of six luxury hotels in three destinations, which it has managed for over four decades. With resort options in Mazatlan, Cancun, and Cozumel, Mexico, El Cid provides some of the best vacation experiences available. By offering a wide variety of services, amenities, and different meal plan options including all-inclusive, guests can customize their vacation to suit their needs. El Cid Resorts in Mexico has been honored with customer choice awards from companies such as TripAdvisor, AAA, and other quality travel companies. For more information on El Cid Resorts please visit - http://www.elcid.com.
###
El Cid Resorts Contact Information
International
Toll-Free: 1 866 306 6113
http://www.elcid.com
Within Mexico
Mazatlan Toll-Free: 01 800 716 9800
Riviera Maya Toll-Free: 01 800 003 6292
Cozumel Toll-Free: 01 800 670 3277
http://www.elcid.com.mx