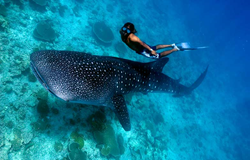 Cancun, Mexico (PRWEB) July 21, 2015
El Cid Vacations Club members enjoy a myriad of entertaining activities and sights, but one adventure that consistently tops the list, according to El Cid Vacations Club members, is the exhilarating whale shark tour. The largest type of shark in the world, the whale shark is completely safe to humans; El Cid Vacations Club members can get right in the water alongside them without issue.
El Cid Vacations Club members flock to whale shark tours over other types of marine excursions because of the intimate boat sizes (only 10 passengers per boat) as well as the high likelihood of actually getting up close and personal with the wildlife. El Cid Vacations Club members, as well as other visitors to the area, who are interested in swimming with the whale sharks can visit http://www.cancunwhalesharks.com to schedule their five-hour tours through the crystal clear, open waters of the Yucatan.
Unfortunately, the Mexican conservation authorities have recently decided to significantly reduce the number of whale shark boats allowed in recent months, making it a bit challenging to reserve seats on board a tourist boat for the 2015 season so book early. If El Cid Vacations Club members or other tourists are interested in securing seats aboard a whale shark boat, they are urged to reserve their seats as soon as possible.
Complimentary El Cid Vacations Club Member Mobile App --Download Now
El Cid Vacations Club is a global leader in the vacation ownership and resort industry, delivering a wide variety of memorable vacation experiences for members. ECVC continually strives to enhance its member services and guest experiences. Members are now invited to take advantage of downloading the complimentary El Cid Vacations Club Member mobile app available on both the App Store and Google Play. This application allows members to stay up to date on the most recent news, make reservations, and always stay in contact with ECVC. This is the perfect opportunity for ECVC members to plan their next dream vacation at one of the many stunning El Cid properties. For more information, visit http://www.elcidvacationsclub.com.
El Cid Vacations Club Contact Information:
El Cid Vacations Club
Av. Camarón Sábalo S /N Centro Comercial El Cid.
Mazatlán, Sin. México C.P. 82110
Phone +52 669 913 3333
Fax +52 669 916 0665
Email: ownersrelations(at)elcid(dot)com(dot)mx