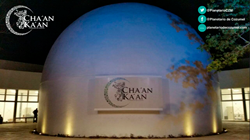 COZUMEL, Mexico (PRWEB) August 10, 2015
Traveling with El Cid Vacations Club allows visitors the opportunity to experience all of the beauty and excitement that Mexico has to offer. This expert travel provider has luxury resorts in Mazatlán, Cancun, and Cozumel, allowing members to enjoy these unforgettable locations year round. In between basking in the sun pool or beachside and taking advantage of the numerous resort amenities, visitors can enhance their dream vacations by venturing out to see amazing local attractions. El Cid Vacations Club recommends visitors to Cozumel this summer check out the highly touted Cha'an Ka'an Planetarium.
The first and most modern facility of its kind in Latin America, Cha'an Ka'an Planetarium is fully equipped with state of the art technology and 3D systems. Victor Alcerra Sanchez, the general director of Quintana Roo Council of Science and Technology (Coqcyt), said the Planetarium has the latest equipment and facilities that a 750 million peso investment could buy.
The planetarium's impressive screening room is equipped with a 3D system that is supported by specialized software and six projectors designed to work on a 360x180 screen made of perforated aluminum that spans 12 meters in diameter. All of the hardware, software and projectors were designed specifically to support three-dimensional images.
The facility also includes areas dedicated to diverse scientific and technological developments, as well as an interactive museum of water. The planetarium will also feature an observatory, a museographic space on Maya cosmology and a special telescope to safely observe the sun, said Alcerra Sanchez in an interview. They have also established an educational program to disseminate science and technology, which El Cid Vacations Club members may enjoy checking out.
The Cha'an Ka'an Planetarium is both a recreational space for Cozumel residents and an attraction for visitors. The goal of the facility is to promote coexistence and exchange ideas in an environment that stimulates scientific knowledge and innovation. Planetarium founders also expect the facility to preserve the legacy of the Mayan culture and biodiversity of the state. In fact, Cha'an Ka'an means 'watch' or 'enjoy' the sky in Maya.
The design concept of the Cha'an Ka'an Planetarium is in reference to the swallow, the symbol of the island, Alcerra Sanchez said. What is even more extraordinary is that the design also took into consideration the local weather; the building was designed with curves that offer little resistance to hurricane winds, which are common in the region.
El Cid Vacations Club is a global leader in the vacation ownership and resort industry, delivering a wide variety of memorable vacation experiences for members. ECVC continually strives to enhance its member services and guest experiences. Members are now invited to take advantage of downloading the complimentary El Cid Vacations Club Member mobile app available on both the App Store and Google Play. This application allows members to stay up to date on the most recent news, make reservations, and always stay in contact with ECVC. This is the perfect opportunity for ECVC members to plan their next dream vacation at one of the many stunning El Cid properties. For more information, visit http://www.elcidvacationsclub.com.
###
El Cid Vacations Club Contact Information:
El Cid Vacations Club
Av. Camarón Sábalo S /N Centro Comercial El Cid.
Mazatlán, Sin. México C.P. 82110
Phone +52 669 913 3333
Fax +52 669 916 0665
Email: ownersrelations(at)elcid(dot)com(dot)mx