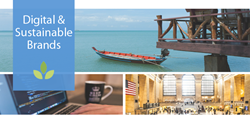 We are committed to empowering contemporary workforces for an increasingly changing world...
SAN DIEGO (PRWEB) June 02, 2015
Elcom Technology (http://www.elcomcms.com), a global provider of enterprise web content management solutions and creatorbase (http://www.creatorbase.com), a community of creators, ideas, and insights are collaborating on a workforce success initiative to explore the intersection of human motivation, digital and sustainable business.
"We are committed to empowering contemporary workforces for an increasingly changing world including globalization, economic and geopolitical uncertainties, technology innovation, societal shifts, new cultural norms, and real environmental concerns," said John Anstey, CEO of Elcom Technology Inc. "Taking a grassroots approach by involving an open community to research and articulate workforce opportunities and risks will help to create relevant, useful content for human resources and corporate communication leaders in a wide variety of industries."
Elcom and creatorbase are focused on key questions the team believes will be of interest to the business community, including:

What are the top workforce-related challenges that modern organizations face and why?
What should companies do to attract, empower, and retain skilled, high-performing employees and contractors in increasingly distributed work environments?
How can employees and contractors, regardless of where they work, improve their individual and team performance – and be happy in the process?
What will the future of work look like with more automation and digital systems across business processes; how should companies and workers prepare, now?
Who should drive digital and sustainable business practices in the organization and why?
"Elcom Technology is a digital and sustainable business partner to know, with a long history of web content management technology innovation and customer success," said Erick Mott, principal consultant and founder at creatorbase. "Together and with input from a number of industry leaders and practitioners, we're going to take the next few months to uncover, connect, and share insights about workforce, digital and sustainable business issues and trends. We believe this is necessary to help business leaders fully understand the opportunities and risks of building successful workforces in 2015 and well beyond.
Supporting Resources

About Elcom Technology
John Anstey founded Elcom with the vision of developing a modular Enterprise Web Content Management platform for Websites, Portals, Online Learning, Intranets, Social, and Mobile solutions. elcomCMS is used by medium and large enterprise organizations when the timeline, risk, and costs are critical. Elcom is a Microsoft Gold Partner with many successful implementations around the world including: Hyundai, Kia, Target (Australia), Austrade, Lego Club, Volkswagen, Orica, British Paints, Emerson Power, Kaiser Permanente, Louisville Water Company, and more: http://www.elcomcms.com/
About creatorbase
The creatorbase® community is for individuals and teams interested in digital and sustainable business strategies, technologies, insights, and results. Based in the San Francisco Bay Area, creatorbase enables industry leaders and practitioners worldwide to achieve digital transformation, customer experience, modern marketing, and workforce success goals. Learn more: http://www.creatorbase.com – Your space to create.®
Media Relations
Annette Dockerty
Elcom Technology
annetted(at)elcomCMS.com
+61 417 220 866
Erick Mott
creatorbase
media(at)creatorbase(dot)com