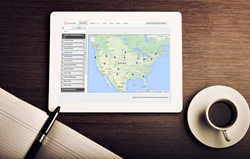 The difference between their system and ours, is that theirs is static, ours is fluid.
Seattle, Washington (PRWEB) May 15, 2015
Scimitar Global Systems Corporation is on schedule to deliver the first widely-available, customizable telematics and fleet management system later this year. Currently, Scimitar has made the initial Hours of Service Module available for download as an application now, with additional systems and functionality being moved into beta testing as they are completed.
The Hours of Service Module application will be included on Scimitar's in-cab Electronic Logging Device (ELD) as soon as Fall 2015. Third party and in-house applications can be deployed via Scimitar's Command Center, further extending the ELD's capabilities.
Scimitar's fleet management suite includes not only standard communications, dispatch, compliance automation, and truck tracking, but also integrated call center features such as the ability to connect customer phone calls to the in-cab ELD hardware.
The federal Department of Transportation's database of all registered motor carriers shows that more than 60% of the large trucks on the road belong to fleets of 200 trucks or fewer. These smaller fleets do not realize the same benefits from infrastructure-intensive systems that were designed for larger fleets. Additionally, more limited systems that only include navigation, vehicle diagnostics and hours of service are too limited to offer a competitive advantage to smaller fleets. Michael V. Berkey, President of Scimitar, believes that a more modular approach that can be customized will offer a better value to all-sized companies than the more monolithic systems.
Mr. Berkey anticipates the Scimitar system being used as an ELD platform which can be customized at the fleet level, or as building blocks for Original Equipment Manufacturers to create more specialized products.
The Hours of Service Module and more information can be found at Scimitar.Global