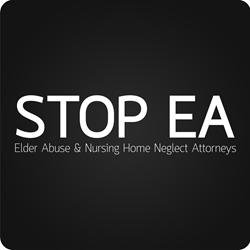 Both of these bills would help make strides in providing better care to Californians who are in assisted living facilities - Stop EA Attorney Sean Laird
Sacramento, CA (PRWEB) August 19, 2014
The Stop EA (elder abuse) campaign is encouraging Californians to write their legislators and encourage them to support two key pieces of legislation that could help the fight to stop elder abuse.
AB 2236 (Brian Maienschein; R-San Diego, Mark Stone; D-Monterey): Increases fines for health and safety violations at assisted living facilities, now set at a maximum of $150. The bill calls for fines for violations that can cause death to increase to $15,000. According to a piece in the San Diego Union-Tribue entitled, "Assisted living fine increase approved," the bills face key battles this week.
SB 911 (Marty Block; D-San Diego): Requires higher levels of training for facility managers and staff at assisted living facilities.
"Both of these bills would help make strides in providing better care to Californians who are in assisted living facilities," said Stop EA attorney, Sean Laird. "Take action and contact your representatives in the Senate and Assembly to make sure these bills continue and eventually make it to the Governor's desk."
AB 2236 will next be heard on the Senate floor, and the full Assembly will hear SB 911.
To find your state senator and contact information, visit http://senate.ca.gov/senators. To find your state assembly member and contact information, visit http://assembly.ca.gov/assemblymembers.
"Reach out to them and ask them to vote yes on these bills that protect the elderly people that mean so much in our lives. These bills have Stop EA's full support," Laird said.
Although California has a set of rules that seek to regulate the behavior of assisted living facilities, these regulations are virtually meaningless when not enforced or enforced with fines that have absolutely no financial impact on large, for-profit assisted living facility corporations that have policies which have the potential to lead to widespread neglect of residents.
The Stop EA campaign, a California law firm and collection of elder advocates founded by three experienced elder abuse attorneys, seeks justice for families whose loved one's have been harmed in these facilities and to make sure that the same thing does not happen to the next vulnerable, unsuspecting family.
Those who are concerned about the quality of care their loved ones may be receiving in one of these facilities can obtain a free, private case evaluation from Stop EA by calling 1-866-864-1800.
For more information on the campaign, identifying symptoms of abuse and neglect and informational videos, visit stopea.org.