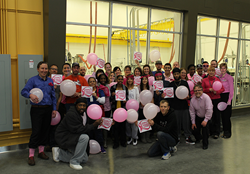 I was amazed at the amount of participation and enthusiasm and the way that everyone rallied around their fellow employee.
Denver, Colo. (PRWEB) January 14, 2015
The Eldon James Corporation, a plastic tubing and connector manufacturer, held a "pink out" day to raise awareness among employees for breast cancer. The day was quickly organized to rally behind one employee recently impacted by breast cancer.
The "pink out" day became a day of awareness for all employees where they were provided with resources to better understand the risks and the importance of early detection, while giving them the opportunity to donate to the Susan G. Komen organization. Employees dressed in pink and came together to support their fellow employee.
"I was amazed at the amount of participation and enthusiasm and the way that everyone rallied around their fellow employee.," stated Mark Timbrook, director of marketing for Eldon James. "It brought a lot of awareness to the importance of screening and early detection."