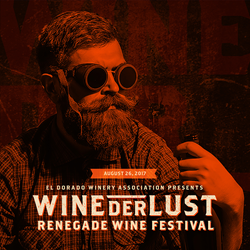 Placerville, Calif. (PRWEB) July 06, 2017
El Dorado Winery Association is proud to present its first-annual celebration of renegades, rebels and rabble-rousers at the WINEderlust Renegade Wine Festival. The inaugural event will take place along the South Fork of the American River at Henningsen Lotus Park on Saturday, August 26, 2017 from 2:00 to 9:00 p.m. Wine adventurers, craft beer buffs, exploration enthusiasts and everyone in between are welcome to join the festivities that include food, beverage, and artisan vendors along with mocktails and live music from co-headliners MerryGold, Late for Dinner and Achilles Wheel.
"The WINEderlust Renegade Wine Festival will be our biggest, most exciting event yet for the El Dorado wineries and community," said Carey Skinner, President of El Dorado Winery Association. "We couldn't have asked for a better venue to capture our region's renegade side and demonstrate our dedication to adventure and fun while showcasing local wines, craft beers and great music on the bank of the American River."
TWEET THIS: First-ever @ElDoradoWines #WINEderlust Renegade Wine Festival on 8/26 celebrates trail-blazers and rabble-rousers: http://bit.ly/2srPoMF
Henningsen Lotus Park was formerly the location of the popular American River Music Festival, and that event's cancellation has paved the way for the WINEderlust Renegade Wine Festival to make its debut. Attendees will head for the hills and experience a one-of-a-kind wine adventure, where 16 participating El Dorado County wineries will offer a diverse selection of wine tastings. Live music performances will include Northern California bands MerryGold, Late for Dinner and Achilles Wheel. The festival will also feature delicious cuisine and goods from more than 30 food, beverage, and artistic vendors, and three riverfront campgrounds nearby provide optional lodging for guests who prefer not to travel when the day concludes.
El Dorado Winery Association will share more details as the event draws closer, so interested parties are encouraged to frequently check the event landing page and social media for updates regarding confirmed vendors and exclusive preview content. Tickets can be purchased online for $28 per person, plus tax and fee, and the event is available for all ages.
About El Dorado Winery Association
El Dorado Winery Association is dedicated to representing the unified interests of its members and nationally promoting El Dorado County as a high quality wine production and tasting destination. The region is home to more than 2,000 acres of vines and approximately 70 family-owned wineries. Its multifaceted terrain features hundreds of microclimates ranging in elevation from 1,200 to 3,200 feet, allowing vintners to make wines from the largest, most diverse selection of grape varieties in the world. El Dorado County has been California's most unique destination for adventurous wine enthusiasts since the first vineyard was planted in 1849. Wine. Altitude. Adventure. For more information on the El Dorado Winery Association and its members, visit eldoradowines.org.