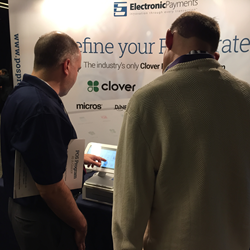 Clover, bundled with the security of TransArmor, is a powerful offering we are bringing to the marketplace.
Calverton, New York (PRWEB) February 25, 2015
Setting a new standard in innovation, Electronic Payments today unveiled the industry's first and only Clover Placement Program. The first of its kind program provides an affordable means for obtaining Clover™ Station, a best-in-class and dynamic business management solution, without any lease or purchase commitments.
Affording access to state-of-the-art hardware, advanced software and value-add apps, the placement program includes a Clover Station complete with a barcode scanner, FD-40 PIN pad, menu programming and deployment. It is the first program to include the platform software, hardware and peripherals at no upfront cost. The progressive Clover™ App Market caters to each individual business, providing unparalleled customization and adaptability. This unique resource provides support for third-party apps and additional Clover features. Clover is a subsidiary of First Data, the global leader in payment technology and services solutions.
To further enhance the experience of small to medium sized businesses (SMB), Electronic Payments has developed a data analytics tool, Paylytics™. Additionally, there is seamless support for eGiftSolutions, a leading gift card platform offered exclusively by Electronic Payments. Any SMB can use eGiftSolutions to offer reloadable custom gift cards, track repeat purchases and increase their marketing reach as is most common in "big box" retailers.
Transactions made with the Clover Station will be processed using the TransArmor® solution, a powerful, multilayered security package that protects SMB consumer data, a service included at no extra per-transaction fees in the Electronic Payments Clover Station bundle.
"When we looked at tablet solutions to offer as part of our nationwide POS initiative beginning in 2015, we determined that Clover Station is a best-in-class solution for our discerning clients. In processing more than $6 billion dollars in annual volume, we serve merchants large and small. Clover, bundled with the security of TransArmor, is a powerful offering we are bringing to the marketplace," said Michael Nardy, CEO of Electronic Payments.
At a time when payment technologies are rapidly evolving, the Clover Placement Program by Electronic Payments supports EMV and NFC payments, including Apple Pay™, allowing merchants to accept the latest in card technology. With its sleek, compact design, Clover will prevail in both technology and aesthetics for the long-term.
For additional information on Electronic Payments' exclusive Clover Placement Program, visit http://www.posprogram.com.
###
Contact:
Electronic Payments
Amber Josi
Director of Marketing
amber(at)electronicpayments(dot)com
(800) 966-5520, ext. 286
About Electronic Payments
With "Innovation through every transaction™", Electronic Payments has distinguished itself as one of the fastest growing and highly regarded privately held payment and transaction processing companies in the United States. Electronic Payments currently serves businesses in all industry types and acquires new clients through a network of agent banks, sales agents and independent sales offices (ISOs). Visit http://www.electronicpayments.com for additional information or http://www.bankcardprogram.com to learn more about the company's ISO and MLS programs.