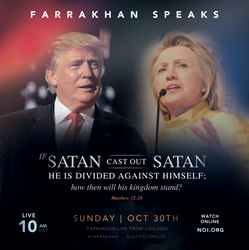 Min. Farrakhan will speak as the country faces a myriad of economic, social and political problems as well as a contentious 2016 campaign for the White House between GOP contender Donald J. Trump and Democrat Hillary Clinton.
Chicago, IL (PRWEB) October 26, 2016
WHO, WHAT & WHEN: Nation of Islam Minister Louis Farrakhan will deliver a major message on Sunday, October 30, 10 a.m. CDT, at Mosque Maryam in Chicago on Donald Trump, Hillary Clinton and the 2016 presidential election. The Minister's remarks will come days before Americans take to polls to cast their ballots for president in an important national election. The lecture is free and open to the public and available via webcast at http://noi.org and via the Minister's official social media sites, including Twitter (@LouisFarrakhan) and Facebook. The message will also be available on YouTube.com.
WHERE: Doors open for the media at 9 a.m. CDT and Mosque Maryam is located at 7351 South Stony Island Avenue in Chicago. Media space is limited so please confirm attendance by calling or texting 312 480 9775, or via email. Please bring current media credentials or a letter of assignment. Doors open for the public at 9 a.m. A press conference concerning Election 2016 will follow Min. Farrakhan's address.
WHY: Min. Farrakhan will speak as the country faces a myriad of economic, social and political problems as well as a contentious 2016 campaign for the White House between GOP contender Donald J. Trump and Democrat Hillary Clinton. The subject of Min. Farrakhan's address is "If Satan Cast Out Satan, He is Divided Against Himself; how then will his kingdom stand?"