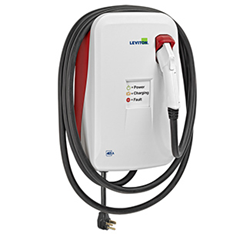 Nissan Leaf can be charged in 4 hours
ISSAQUAH, WA (PRWEB) March 13, 2014
TheHardwareCity.com is known for their vast inventory of tools and home supplies. This month, newly cataloged in their online store is the Leviton Evr-Green 400 Electric Vehicle Charging Station. Offering quick charging for any SAE J1772 Compatible Electric Vehicle, Leviton is a leader in the car charging industry. As a supplier of the high quality product, TheHardwareCity.com continues their reputation for displaying the latest and most innovative home products.
Electric Car consumers can enjoy a 94% discount by purchasing the state-of-the-art car charger through TheHardwareCity.com. Free shipping is also offered to purchasers of the Leviton Electric Vehicle Charger. The online supplier offers convenience in shopping, permitting customers to browse for what they need online and have certain products shipped directly to their door without additional shipping fees.
Included with the new Leviton Evr-Green 400 Electric Vehicle Charging Station is a 25-foot charging cable. Electric car owners will experience convenience in the flexibility of the charger because of its ability to be mounted virtually anywhere. The charger can be installed without the use of tools in a non-permanent fashion, allowing users to remove it and take it with them when they move. Or, it can be hard-wired installed, making outdoor installation possible. The 40A charger is designed with a durable thermoplastic cover. Customers will be pleased with the short charge times required for vehicles.
Vehicles that undergo quick charging times with the Leviton Evr-Green 400 include the Ford Focus Electric, charging in approximately 3 hours, the Ford C-Max Energi, charging in approximately 2 hours, and the Ford Fusion Energi, charging in approximately 2 hours. Honda models charge fast also: the Fit EV charges in approximately 3 hours, and the Accord Plug-In charges in approximately 1 hour. The Prius Plug-in and the RAV4 EV, both Toyota vehicles, charge in approximately 1 hour and 4 hours, respectively. The Mitsubishi i-MiEV and the Nissan Leaf (3.3kW) can be charged in 7 hours. The Smart Electric Drive and the Tesla Model S are charged in just 6 hours. In approximately 4 hours, the charger can recharge the Chevy Volt, Fiat 500e, or the Nissan Leaf (6.6kW). Many of these charging times are far lower than what is required with other chargers.
To view the new Leviton electric car charger and to take advantage of a discount and free shipping, visit http://www.thehardwarecity.com/. The new product can be found in automotive accessories, under farm and automotive.
About TheHardwareCity.com:
Since 2007, TheHardwareCity.com has been a leading online home products store. They offer top customer service through live chat, available through their website. Customers can receive advice and assistance concerning any of the thousands of products sold through their store. Their extensive catalog includes innovative tools and products in numerous departments including farm and automotive, lawn and garden, bath accessories, plumbing, heating supplies, and cooling, building supplies, power tools, and much more. Their services can be found at http://www.thehardwarecity.com/.