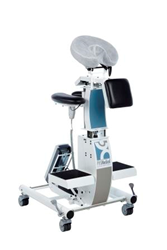 The Anesthesiologist-designed body and power functions of this new patient positioning equipment eliminate a lot of the safety and positioning concerns that technicians have to deal with everytime they have to do their job
Winnipeg, MB (PRWEB) October 28, 2014
Used in anesthesia and labour and delivery, epidural positioning will become easier for the technician and more comfortable for the patient with this new patient positioning technology. During development of the electric patient positioner, safety was one of the main concerns. The E-EPD mildly promotes flexion as it maintains solid and stable during cervical, lumbar and thoracic positioning.
"Staying true to Meditek's philosophy of sourcing technologically superior healthcare equipment, the electric epidural patient positioner takes patient positioning to a new level of efficiency," states Drew Samuels, Product Specialist at Meditek.
Features of the Electric Epidural Positioning System:

Easy to setup, use, clean and transport
Disposable face and armrest covers
600 lbs operating weight
Simple adjustments for accommodating various body type and heights
Rechargeable battery operated
Lock/unlock all castors from one pedal
"The Anesthesiologist-designed body and power functions of this new patient positioning equipment eliminate a lot of the safety and positioning concerns that technicians have to deal with every time they have to do their job. Not only can technicians save more time in positioning the patient, but because of it's ergonomic design they can also do it more safely," continues Drew Samuels.
A few common safety and positioning concerns when positioning a patient for an epidural:

Communication instruction problems between patient and technician
Patient sedation may alter abilities
Technicians may not be physically able to support the weight of the patient
Having to hold the patient in place means less hands available to help others
"Anytime you're dealing with the positioning of patients, the employees are put at risk of getting hurt; or worse yet, the patient. The long list of safety and positioning risks is, quite frankly, reduced to almost nothing with the electric patient positioning device," reaffirms Drew Samuels.
A manual version is also available for facilities that may not have the budget for the electric epidural positioning system.
Contact Information:
Brad Samuels, Marketing Manager
Meditek
1.800.567.8400
info(at)mediteksurgical(dot)ca
http://www.mediteksurgical.ca
About Meditek:
Meditek, through its network of direct sales representatives, provides the Canadian healthcare industry with innovative medical products such as the Optimaxx surgeon headlight, Relaxa Gel positioners, and provides services such as ReNew and InSight. More information about Meditek can be found at http://www.mediteksurgical.ca