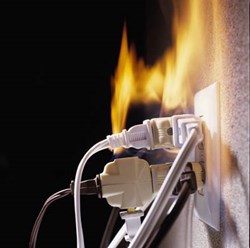 Electrical fires are very popular in the US, therefore the experts at SecuritySystemReviews.com have made an easy tip sheet for consumers to follow so they do not become a victim to one.
Houston, TX (PRWEB) August 21, 2013
Fires are commonplace throughout the United States—in fact there are millions of fires each year, and many result in significant injury and even death. One of the most typical ways for house fires to begin is because of faulty or improperly handled electrical devices and equipment.
SecuritySystemReviews.com, a site providing reviews of the best home security systems, created a list of tips for homeowners to keep safe when it comes to electrical systems. SecuritySystemReviews.com provides reviews of home security equipment for consumers throughout the U.S.
1. If you are going to invest in a security system, choose a security system monitoring features that will provide coverage not only in case of a break-in, but also in case of fire. This includes smoke detectors and monitoring that will alert authorities if there is a potential fire. There is also the option for homeowners to use a do it yourself security system that will provide alerts if smoke is detected.
2. Never throw water on an electrical fire. Often, when there's a fire it can be first instinct to use water to extinguish it, but water can actually cause an electrical fire to get bigger. The best course of action is to use a chemical fire extinguisher for fires that are electrically-based.
3. Check electrical cords frequently for signs of damage and wear, and replace these cords immediately. Worn cords are one of the biggest contributors to electrical fires in homes.
4. If an electrical breaker trips immediately after being reset, this is a good indicator that there is a problem that could potentially lead to a fire. If this is happening, and a homeowner continues to press the breaker, it's likely that a fire is going to result. If this occurs, the best course of action is contact a trained electrician to deal with the problem most effectively.
5. Don't run cords under furniture or rugs—they can overheat or become frayed and cause a fire.
6. Replace any electrical device that electrical shocks, sparks or smoke, even if it only seems small.
7. Only use light bulbs that are the recommended wattage in lamps and light fixtures.
8. Only use extension cords for temporary purposes. They should never be used as a permanent solution. Additionally, all appliances, small and large, should only be plugged directly into the wall—never run an appliance with an extension cord.
9. Immediately call an electrician upon noticing wall outlets or switches that are warm or discolored.
About SecuritySystemReviews.com
SecuritySystemReviews.com is a leading provider of information about good security system companies. The site provides visitors with in-depth reviews and rankings of the best security companies throughout the country, as well as valuable pricing information, discount codes and coupons.