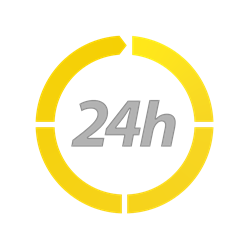 Taking electrical repairs into one's own hands can be expensive and dangerous.
Wilmington, DE (PRWEB) December 19, 2013
As the holidays arrive, many homes and apartments are increasing their electrical usage due to Christmas trees, holiday decorations and lights. What happens if an issue arises? Many individuals know the cost and frustration associated with electrical problems. Having an electrician even once for an electrical repair for a home or apartment comes with a high cost. Trying to fix the issue yourself without proper guidance can lead to more problems and unfortunately, more bills. Now you're able to get electrical help when you need it, and for free. 24h Local is pleased to announce their new service on 24hElectrician.com, the home of an electrician answer in 24 hour.
Now when issues of installation, wiring, and other electrical concerns arise, individuals can visit 24hElectrician.com to post a query. They will then receive a personalized direct answer online within 24 hours of posting. Answers are provided by qualified professionals, and the website organizes questions into categories, so they may be retrieved by visitors at any time. A tag cloud for topics such as wiring, energy saving, and more is also available to help visitors locate previous questions and answers.
Taking electrical repairs into one's own hands can be expensive and dangerous. 24h Electrician's staff consists of professionals who can handle simple and complex issues for electrical problems. The website is streamlined and offers an easy "click to ask" question form, with options for the asker's voltage, model number, etc. The site encompasses multiple electrical topics, including commercial and residential repairs or installations, wiring, energy saving, safety, security and more.
24hElectrician.com is the fourth and newest site by its parent organization 24h Local. The company offers dedicated fast-response websites for computers, plumbing, and appliances. Together, the websites encompass large facet of a home or an apartment. Recently 24hComputerRepair.com introduced a live chat for instantaneous help, dedicated support videos and more. Soon those features will be extended to 24h Electrician. For individuals looking for last minute help with holiday lighting or installing new lighting in a home addition, 24hElectrician.com is here.
About 24h Local:
24h Local, basted in Wilmington, Delaware, is the parent organization of 24hElectrician.com. With its additional websites for computer repair, plumbing, and appliances, 24h Local helps individuals get expert help without an expert cost.