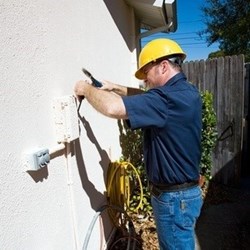 Richardson, TX (PRWEB) February 09, 2014
Supreme Electric and Solar is looking for qualified electricians to perform a wide variety of electrical work including new electrical installations, breaker boxes, wiring & cabling, wireless security systems, troubleshooting, and much more. Most projects are residential and light commercial jobs.
Candidates will need to show knowledge of lighting service, terminating electrical panels, and wiring schematics. Must be able to perform maintenance and corrective repair of building electrical systems and equipment. Inventory will need to be maintained with adequate tools, supplies, and materials for performing routine repair works and electrical installations.
Candidates must comply with all applicable codes regulations, and company directives. Communication skills both verbal and written must be very strong. The company is looking for someone who can effectively communicate technical information and expertise in a clear and understandable way.
Problem solving as well as calculating abilities for percentages, fractions, and decimal points are important. Electricians with a strong work ethic will be given the chance to work with a growing company in the North Dallas area.
Supreme Electric and Solar is looking for a clean cut individual with hand tools and a tool belt and a positive can-do attitude. Conduit bending, wire pulling, installing electrical panels, reading blue prints & wiring schematics, and problem solving skills are important to land this job.
The right electrician must be able to work safely, follow directions, be self motivated, and learn quickly in order to get hired for this electrician job in Richardson, Plano, Allen, and McKinney. Some jobs are also done in Addison, Garland, Dallas, and around the North Dallas area.
For more information contact AL Thompson at 214-702-6930. Supreme Electric and Solar is based in Richardson, Texas and serves the cities in and around the North Dallas area. Visit the website at http://www.supremeelectricandsolar.com.