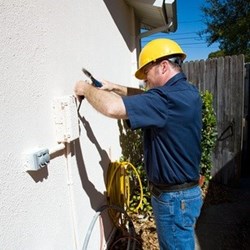 Richardson, TX (PRWEB) November 13, 2013
Supreme Electric & Solar is a licensed electrical contractor & electrician in Richardson, Texas that has been serving the Dallas area for years. The company has recently expanded its services to allow an electrician to make emergency calls for residential homes and commercial businesses in Richardson. Fuse panels, load centers, breaker boxes, meter bases and risers can sometimes fail causing problems which can results in loss of power and the need for an electrician.
When electricity is connected to a home or business by an electrician it goes through what is known as a Main Electrical Service. The Service consists of a Weather Head, Riser, Meter Base, Disconnect and Load Center a.k.a a breaker panel, fuse panel or breaker box. A Circuit Breaker Box is basically a load station that helps to prevent an overload from happening. The circuit breaker contact will trip and stop the flow of electrical current in order to help prevent damage to feeder or branch circuit wires and Utilization Equipment.
A licensed electrician is well aware of many things that can cause a breaker panel to have problems which can lead to potential fires or meltdowns. These things may include faulty wiring, oxidized circuit breaker contacts, Federal Pacific breakers and panels, or poorly maintained breaker boxes. Fires can occur from having an unqualified handyman install breaker boxes, circuit breakers and "new lines". Unlike the inexperienced handyman, a licensed electrician knows how to minimize fires by following the latest National Electrical Code. Many times the incorrect gauge wire is installed which is why using an experienced electrician is always the best choice.
Regardless of exactly what the cause of the problem is, Supreme Electric and Solar can provide a licensed electrician to troubleshoot and make the necessary repairs for a permit and inspection if necessary with the City of Richardson. These licensed electricians in Richardson have all the latest tools and expertise to provide solutions for any type of situation. The electricians are licensed and insured by the State of Texas and The Department of Licensing and Regulations.
The licensed electricians in Richardson at Supreme Electric and Solar are also set up now for other emergency electrical repairs such as accidents. There have been situations where a circuit is overloaded from having too many Christmas Lights on one circuit or the outdoor circuit needs a timer or a ground-fault circuit interrupter.
If a tree limb fallen on electrical wires, riser or meter box, it is an emergency that needs to be repaired quickly. If only half the power is working, the smell of smoke exists, or the sound of crackling can be heard then there is a problem. All these situations can be repaired by the electricians in Richardson, Texas at Supreme Electric and Solar.
Supreme Electric and Solar is a licensed electrical contractor & electrician in Richardson, TX specializing in residential and commercial troubleshooting, as well as Solar Panel Installation. For more information call 469-554-8658.