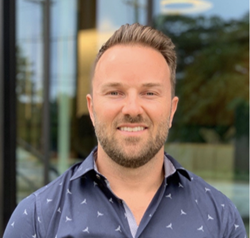 At Electriphi we build software solutions for truly intelligent smart charging. The key is hyper-focusing on this critical element of energy management.
SAN FRANCISCO (PRWEB) March 25, 2020
Electriphi announces industry leader Joel Torr is joining the company to head its business development and strategic partnerships division. Torr comes from managing the North America division at Viriciti, where he worked closely with customers in Transit and Commercial Electric Vehicles, and prior to that he was an early team member at Proterra where he spearheaded the company's efforts to deliver buses from coast-to-coast. His experience on the Electriphi team will accelerate the company's ambitious plans to secure fleet customers and build strategic partnerships across the country.
"At Electriphi we build software solutions for truly intelligent smart charging. The key is hyper-focusing on this critical element of energy management. We're poised to deliver software solutions that commercial fleets need, with a flexible SaaS model and compelling ROI."
The exponential growth of electric mobility is sharply increasing energy demand and infrastructure needs; it is quickly becoming an imperative for utilities and their fleet customers to have access to tools that provide quantifiable insights and strategies for their electrification roadmap.
After going through a highly competitive process, Electriphi has been chosen to compete for a demonstration of its energy management and planning solutions at this year's Incubatenergy™Labs Challenge. The challenge is managed by EPRI in collaboration with a group of leading utilities in North America including American Electric Power (AEP), Ameren, Tennessee Valley Authority, Xcel Energy, New York Power Authority (NYPA), Portland General Electric (PGE), and others.
"The finalists' applications outline technologies that may provide electric power customers effective energy management solutions and utilities new tools to maintain system quality, reliability, and efficiency while supporting sector-wide decarbonization," said Erik Steeb, who leads the Incubatenergy™ Network and Labs program for EPRI. "At Pitch Day, our panel of utilities will select startups to test their solutions in the field through the summer of 2020."
After announcing its latest round of funding and successful deployments across transit, schoolbus, and private delivery fleets, Electriphi is poised to scale its fleet and energy management solutions to even more customer segments. As further validation of its potential, the company has been chosen to join the upcoming cohort of Plug and Play's Mobility Startup Accelerator. Plug and Play is the leading Global Innovation Platform that helps startups and growth-stage companies raise funding and pursue business development opportunities in collaboration with investors, mentors, and Fortune 500 corporations. Electriphi will be participating in the 10-week industry program, featuring facilitated partnerships and connections with key players in the mobility sector and capping with an Expo in the summer.
Electriphi works with fleet operators and partners like utilities to deploy a software charging management platform that saves energy and operational costs, and simplifies the transition to electric vehicles while ensuring fleet readiness.
Upfront planning and smart energy management is an imperative for large scale vehicle electrification. To further help with the transition, Electriphi also provides electrification advisory and planning solutions that evaluate each fleet's unique situation. As an entry point for early customers, the company offers a free web-based tool that provides ROI calculations on the impact of electric vehicles and charging for fleet customers. It is available at http://tool.managedcharging.com.
About the Company
Electriphi, Inc. is a developer of award winning software solutions and services for EV fleet and energy management. It offers an open-standards based charging and operations management platform that saves energy costs and simplifies the transition to electric vehicle fleets.
The leadership team, coming from Amazon, ChargePoint, Proterra, Tibco, Versata and Sybase, bring deep industry expertise in commercial electric vehicles, charging infrastructure, grid-scale computing, enterprise data, IoT, machine learning and AI. Electriphi recently won Distributech's 2020 Initiate! competition and was chosen to join Black & Veatch's IgniteX Cleantech Accelerator, from more than 120 applicants across the United States. Electriphi is based in San Francisco, CA and for more information, please visit http://www.electriphi.ai and follow us on LinkedIn, Facebook and Twitter.