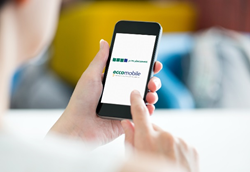 We are always looking at innovation within all our services and are pleased to announce the development of mobile capture services.
(PRWEB UK) 6 January 2015
Prime Document's electronic document storage, retrieval, distribution and management system, ecco is the corner stone of their business and at the heart of their clients account configuration.
Processing and e-delivering millions of invoices, payslips and statements every month, ecco's functionality provides clients with a contemporary and elegant solution to mass document management.
Ideally suited for corporate credit control departments, ecco provides on-demand access to business critical documents via the web. ecco also processes, delivers, tracks and reports on the status of any document sent out.
Clients can now use their own smartphone to capture any type of document (proof of ID, proof of residence for a customer on boarding application or change of address, change of bank details for a HR application) and process it to ecco immediately.
ecco-mobile's key functionality is the ability to use superior image enhancement to intelligently process documents. Not simply a scanning app, ecco-mobile electrically captures key data fields and then processes the document to the clients centralised ecco system.
Commenting on launch of "ecco-mobile", Prime Document's Technical Director Lee Rowlands said:
"We are always looking at innovation within all our services and are pleased to announce the development of mobile capture services. Our ecco platform provides electronic billing, payslip and statement production for millions of documents every month. It is also a platform for imaging and we work with our clients to capture supplier invoices, delivery notes and other business documents."
Adding...
"We have now developed the capability to capture documents directly from consumers with mobiles, home based scanners and tablet devices. We see this as an exciting phase within the document services industry and we are already developing applications within account opening, HR, debt management and insurance."
ecco mobile key features:
APMI-enabled AutoCapture
Automated intelligent recognition
Mobile image enhancement
Date validation algorithms
Key date field extraction
Immediate synchronisation to ecco
About Prime Document:
Established in 1999 to provide secure and reliable critical document production and distribution services, the document management company have continued to demonstrate a quality of service and return on investment that businesses find hard to ignore.
Working with leading brands and blue chip organisations, Prime Document have a rich heritage and impressive portfolio of customers including; LeasePlan, L'Oreal, Johnson & Johnson, City Link and Adidas.
Operating from Park Seventeen Industrial Estate in North Manchester, Prime Document are ideally situated between the M1 and M6 motorways, just 30 minutes from Manchester Airport.
Prime Document Ltd have been awarded the highest accolade possible by their ISO Customer Satisfaction consultants: The Diamond Award, achieving 95% customer satisfaction levels.
For more information about Prime Document, visit their website at: http://www.primedoc.co.uk
Prime Document Limited
Unit 3, Park Seventeen, Moss Lane, Whitefield
Manchester. M45 8FJ
Tel: 0161 766 5544 | http://www.primedoc.co.uk