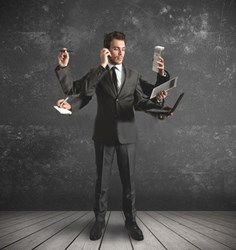 EMRs offer patients the convenience of scheduling appointments online, completing necessary medical forms, and providing essential insurance information.
Denville, NJ (PRWEB) September 18, 2013
"There are many necessary tasks that are performed every day in a clinic which can be tedious and time consuming. The self-intake capabilities of an electronic medical records system can automate many of those jobs, freeing staff to attend to patient care and streamlining processes throughout the practice," said Chhoda.
Providing patient portals are the heights of 21st century office systems which help therapists optimize the client experience. EMRs offer patients the convenience of scheduling appointments online, completing necessary medical forms, and providing essential insurance information. A patient portal offers clients a convenient way to pay their portion of medical expenses utilizing a debit or credit card.
Chhoda said that pre-registration procedures can be done with a physical therapy EMR which provide therapists with advance information on a client's medical condition prior to their appointment. It eliminates long waits in the office that can adversely affect the client's perception of the clinic. He noted that the information gleaned through the intake process allows staff to validate insurance information, determine covered treatments, and clarify any discrepancies prior to the appointment.
Patient portals provide the means for clinicians to automate communications with clients to remind them of appointments and balances owed through email, phone, and text and voice messaging. In addition, clients can request and download information, communicate with clinicians on a variety of healthcare concerns, obtain medication refills and view their diagnostic results.
EMRs provide the means to automate an extensive array of office tasks including physical therapy billing that cost a clinic time and money. Chhoda's new information provides practitioners with vital uses for their EMR to enhance the patient experience, increase self-payments for the clinic, and offer an advanced level of convenience for both clients and clinicians.
Chhoda's office can be reached by phone at 201-535-4475. For more information, visit the website at http://www.emrnews.com.
About Nitin Chhoda
Nitin Chhoda PT, DPT is a licensed physical therapist, a certified strength and conditioning specialist and an entrepreneur. He is the author of "Physical Therapy Marketing For The New Economy" and "Marketing for Physical Therapy Clinics" and is a prolific speaker, writer and creator of products and systems to streamline medical billing and coding, electronic medical records, health care practice management and marketing to increase referrals. He has been featured in numerous industry magazines, major radio and broadcast media, and is the founder of Referral Ignition training systems and the annual Private Practice Summit. Chhoda speaks extensively throughout the U.S., Canada and Asia. He is also the creator of the Therapy Newsletter and Clinical Contact, both web-based services to help private practices improve communication with patients, delivery better quality of care and boost patient retention.