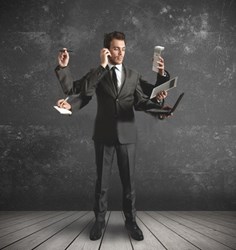 It's just logical that EMR for physical therapy services makes sense to reduce cost and streamline the practice.
Denville, NJ (PRWEB) December 02, 2013
"Physical therapists of this century need to be prepared in order to compete in the changing world of physical therapy billing. They should always stay on top of notifying physicians, employers and the insurance companies, as well as patients' therapy plan and office visits," said Chhoda. "It's just logical that EMR for physical therapy services makes sense to reduce cost and streamline the practice."
He added that the most important aspect that favor the use of EMR and occupational therapy software is the time reduction factor. In the traditional system, it takes time and manpower to transcribe each client's documentation, as a client's file makes the rounds of the office. It has been frustrating how much time is spent duplicating information.
According to Chhoda, security is another important reason an electronic medical record system should take place. EMR files can now be stored offsite. With hard copy files, the office is open to theft, fires, water damage and all sorts of other disasters that not only can cause loss of records but can open the physical therapist up to possible legal action.
He noted that many therapists and staff like the aspect of the office going green, as well. Reducing an office carbon footprint is a smart move, as well as an economical one.
Chhoda's office can be reached by phone at 201-535-4475. For more information, visit the website at http://www.emrnews.com.
About Nitin Chhoda
Nitin Chhoda PT, DPT is a licensed physical therapist, a certified strength and conditioning specialist and an entrepreneur. He is the author of "Physical Therapy Marketing For The New Economy" and "Marketing for Physical Therapy Clinics" and is a prolific speaker, writer and creator of products and systems to streamline medical billing and coding, electronic medical records, health care practice management and marketing to increase referrals. He has been featured in numerous industry magazines, major radio and broadcast media, and is the founder of Referral Ignition training systems and the annual Private Practice Summit. Chhoda speaks extensively throughout the U.S., Canada and Asia. He is also the creator of the Therapy Newsletter and Clinical Contact, both web-based services to help private practices improve communication with patients, delivery better quality of care and boost patient retention.