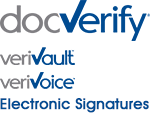 Irvine, Ca (PRWEB) May 13, 2014
DocVerify, the industry leader in secure electronic notarizations and electronic signatures has recently upgraded its electronic journal system for superior security and ease of use. DocVerify introduced the first cloud-based Platform as a Service (PaaS) electronic notary system that enabled e-notaries to quickly electronically notarize documents, enabled individuals or companies to request e-notarizations, and also introduced Virginia based notaries to provide remote electronic notarization without being locked in to a specific web cam platform provided only from the provider.
According to Mario Leone of DocVerify, one of the major advantages of the electronic journal is the security it offers against forgery and fraud. "Paper based journals are not only cumbersome, but they're also not very secure, which in some cases can make them vulnerable to fraud, forgery, or theft. They can also be easily misplaced or worst they can get lost, and in those cases, the Notary may be liable for whatever may happen as a result whether it's from theft or if it's lost. DocVerify is designed to help notaries not just minimize, but in some ways eliminate, such risks," explains Mr. Leone.
Mr. Leone further highlighted that company's goal is to constantly add new technical functionality at the leading edge of the market in order to ensure maximum security and optimal application performance in a high competitive market. One of the major measures of the DocVerify's performance is ease-of-usage, which the company ensures through their user-friendly and easily accessible cloud-based system. Using the DocVerify platform, Notaries simply go online and enter new electronic journal entries secured through tamperproof technology that blocks any attempt to change, delete, or edit.
Each new notary is required to have a DocVerify account, which can be created by clicking the Free Account button on the website. Notaries can access the Notary Portal and create their notary profile right after signing up for the account. In order to initiate new journal entries, notaries must activate their account to notary status. For notaries in states that allow e-notarizations, DocVerify also allows commissioned notaries to e-notarize documents, in which case the e-journals are automatically created.
For maximum security and protection, DocVerify also includes a signature-pad feature that enables signers to easily draw their names through the browser or a smart phone or tablet. If the state requires a thumbprint, the notary can even upload an image of the signers' thumbprint in order to attach it to the journal entry. E-journals created through DocVerify are also exportable as a Microsoft Excel spreadsheet, which can be easily imported into other programs or applications. For Enterprises, the master account can easily export all their in-network notary journals from all their child users with one simple click.
Explaining how DocVerify helps save time and cost, Mr. Leone said, "Not only is the e-journal simple and very easy-to-use, it is also very affordable with plans starting as low as a Starbucks cup of coffee per month. The days of losing your journals, having your journals stolen, liability exposure etc., are over, and the DocVerify e-journal system helps notaries be more efficient and make money at the same time."
The DocVerify system is also available through API's which allows users and organizations to integrate DocVerify directly into their applications. With the API's, electronic journals, and new notary requests can be added to practically any website or mobile application. For more information, please visit the website http://www.docverify.com.
About DocVerify
DocVerify is rapidly strengthening its position as industry leader in electronic signatures and digital signatures after its recent partnerships and integrations with Oracle, Wufoo, and Salesforce. The company is leading the way with its electronic signatures and secure data storage VeriVault technologies, and is even integrating these into online retail stores to help prevent chargeback friendly fraud which is detrimental to online merchants. The company is fully compliant with HITECH, ISO, SOX, HIPAA, PCI, UCC, various other ISO requirements, and other laws or regulations.
DocVerify and VeriVault are registered trademarks, and trademarks of DocVerify, Inc.