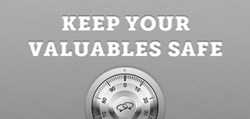 Portland, Oregon (PRWEB) January 27, 2014
Many people love to receive new electronics as holiday gifts. Whether it's the newest smartphone, tablet or laptop, personal electronics of all types are a very popular gift. The downfall occurs when thieves target these new personal electronics, which is especially common during the time that surrounds the holidays.
Many electronics are very expensive, and can be hundreds or even thousands of dollars, so consumers are constantly seek ways to keep these devices protected from theft. The team at SecuritySystemReviews.com, a home security systems review site, has put together a list of tips to help people keep those electronics from being stolen this season. Security System Reviews is a site that provide reviews of top companies and systems, including Vivint security systems.
1. Never leave an electronic in an unlocked vehicle, even if it's parked in a driveway or garage. Electronic devices also shouldn't be left within visibility of a car's windows, even if it is locked. The best place to store personal electronics is within a trunk, or under a car seat, and the doors should always be locked.
2. Try to avoid carrying laptops and tablets in cases specifically designed for these items. Instead, put them in a backpack, briefcase or purse so that people aren't automatically aware they're housed inside.
3. Always apply password protection to every device, and the apps and programs that are contained on the device. The risk of electronics theft doesn't just mean an individual will lose the value of the device, but a thief could also access online email accounts, private information and shopping accounts.
4. Apply a distinctive marking to electronic devices.
5. There are a number of DIY security systems specifically for electronics. These theft alarm systems can deter a criminal, and there are even systems that allow for the tracking of a stolen device.
6. If an electronic device has to be left in an office or hotel room, use a cable lock that easily attaches to something like a chair leg.
7. Back-up all information contained on electronics, using cloud-based storage, or something like a flash drive.
8. Many thieves target shoppers buying electronics around the holiday season, so when purchasing an item, be careful when leaving the store, and keep all purchases hidden. Also, avoid becoming distracted by a cell phone or music when leaving a store after making an expensive purchase.
9. Try not to buy valuable electronics alone—most people who have these items stolen when leaving a store are single shoppers.
About SecuritySystemReviews.com
SecuritySystemReviews.com is a valuable consumer resource, and it provides reviews and rankings of top security systems and companies throughout the country. Whether a consumer is seeking information and reviews of New Jersey security systems, all the way to New Mexico security systems, it can be located in one convenient, user-friendly location.