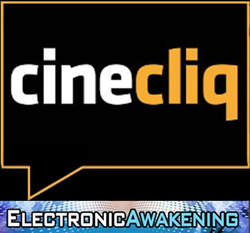 "I want to thank all our fans and supporters, because of them Electronic Awakening is now available worldwide!" - AC Johner Director/Producer/Creator of Electronic Awakening
San Francisco, CA (PRWEB) July 25, 2014
Keyframe-Entertainment, Federation of Earth, and House of Film are announcing the worldwide streaming availability of "Electronic Awakening" through CineCliq. Directed by Andrew Johner, "Electronic Awakening" is an ethnographic documentary film that investigates the spirituality of Electronic Dance Music culture and its ties to ancient shamanic rituals. The film features dozens of experts and published author--such as Alex Grey, Starhawk, Eric Davis, and Daniel Pinchbeck--who explore the premise that "Electronic Music is spiritual technology that allows access to higher states of consciousness". The film also features music from world-renowned artists such as Shpongle, The Crystal Method, Random Rab, Phutureprimitive, Govinda, Bird of Prey, Jason Knight and many more. "Electronic Awakening" has a successful worldwide screening campaign; screening at over one hundred locations, including Harvard, Yale University, Helsinki University, the EVOLVER Network, Burning Man, Canada, Europe, Australia and Japan. To stream the film outside the U.S. through CineCliq, go to http://www.cinecliq.com/movie/513. To watch the film through VOD within the U.S., go to https://itunes.apple.com/us/movie/electronic-awakening/id589101780.
Cinecliq is a social video-on-demand service for film lovers around the world. Complete Facebook integration defines the Cinecliq experience, fundamentally differentiating it from all other VOD platforms. Every action a user performs may be reflected on their timeline and seen by hundreds or thousands of their Facebook friends. Cinecliq is available in over 200 countries worldwide. This presents a unique opportunity for content providers to market their content globally while maintaining complete control over territorial rights by geo-blocking access country by country. Coupled with an unparalleled suite of features including real-time reporting, enhanced security, superb image quality, and compatibility with all existing mobile devices, Cinecliq provides the perfect tool for studios, producers, distributors, and independent filmmakers to market and exploit their content internationally, on Facebook and beyond.
In the summer - fall of 2014, "Electronic Awakening" will be adding three more international festivals to its successful list of worldwide screenings. The film will be screened at Motion Notion Festival, Canada, on Sunday July 27th 2014 at 10pm; at Forest Frequencies Festival in Chatoul, Lebanon on Friday August 22 and Saturday August 23rd 2014; and at Gaggalacka Festival in Berlin, Germany on Sunday September 7th, 2014 at 10pm.
About Electronic Awakening:
Directed and Produced by Andrew Johner, "Electronic Awakening" investigates the spirituality of Electronic Dance Music culture. Featuring footage with Daniel Pinchbeck, Alex Grey, Terence McKenna, Ken Kesey, Erik Davis, and Starhawk, the ethnographic documentary film explores the international "rave" phenomenon not as a party scene but as a reemergence of shamanic ritual. Showcasing the transcendental, spiritual, and communal effects of electronic dance music (EDM) events, "Electronic Awakening" strips away the common associations of drugs and hedonism, and demonstrates how the culture has evolved over the years into one that is conscious and sacred.
About House of Film:
House of Film, an IFTA member, is a leading Hollywood boutique sales, distribution and production company specializing in the world-wide distribution of quality independent films, offering domestic and international sales, marketing and monetization of select films through traditional and non-traditional release formats. The company's mission is to overcome the challenges of selling in an era of failing distribution models and to maximize revenue for every film that it represents.
About Keyframe-Entertainment:
Keyframe-Entertainment is a Transformational Media Network that bridges Underground Electronic Music and mainstream culture. By inspiring, informing, and entertaining through film, electronic music, visionary art, community building, and Transformational Festival culture, Keyframe aspire to create global positive change and enhance the living experience. Keyframe was launched in 2004 as a music label and artist management company and has since expanded its scope to include consciousness films and events. Keyframe-Entertainment is the Executive Producer of "Electronic Awakening" and the creator of Keyframe-Cinema, an online service that allows Transformational filmmakers to share their work with fans, film buffs, and festivals.