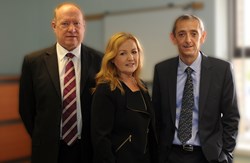 What's key to our success and something I'm personally delighted with is our continued commitment to getting the basics right.
Manchester, United Kingdom (PRWEB UK) 6 February 2014
Formed in 1999 as a new venture with a different approach, company directors Simon Thompson, Deborah Thompson and Lee Rowlands have steered the electronic document management company on to become one of the industries most respected and admired service providers.
Their refreshing approach towards service quality and customer satisfaction, rather than a total focus on price, clearly offered something more to the marketplace. Within little time, the document management company had acquired global blue chip clients such as L'Oreal, Reebok, Unipart and Brammer.
"They are a pleasure to deal with." (Johnson and Johnson)
"They are brilliant and always go the extra mile for us." (Adidas)
It's not just their novel and ethical approach to service delivery that sets Prime Document apart from the crowd. Year on year the business has posted admirable financial accounts, highlighting the management teams assiduous and meticulous long term planning.
Starting life as a financial document print and production service provider, Prime Document have gone on to develop their own electronic data interchange systems, enabling any client to send any data format, ready for automated creation and distribution.
The management team have also chartered the business to expand into secure financial electronic document management, offering their clients a cost efficient mix of traditional postal methods and cutting edge electronic delivery with real-time reporting.
This foresight and diligent management is reflected in the companies financial stability. During the height of the recent recession, Prime Document posted 33% growth figures and expanded operational capacity by an impressive 75%.
Commenting on their 15 years in business, Financial Director Deborah Thompson said:
"To think how far we've come from our first day. We started off with just a few high output MFP's (multi function printers) and a sincere determination to truly care about our clients accounts. Now we employ a team of 20 and produce over 2.5 million documents each month for our clients.
What's key to our success and something I'm personally delighted with, is our continued commitment to getting the basics right.
Year on year we achieve outstanding scores in our BenchmarQ Customer Satisfaction audits. For the past 8 years we've achieved the Diamond Award because we receive a 95% or higher customer satisfaction rating from our clients."
Adding: "That's a true reflection of our achievement over the past 15 years. Long may it continue."
About Prime Document:
Established in 1999 to provide secure and reliable critical document production and distribution services, the document management company have continued to demonstrate a quality of service and return on investment that businesses find hard to ignore.
Working with leading brands and blue chip organisations, Prime Document have a rich heritage and impressive portfolio of customers including; LeasePlan, L'Oreal, Johnson & Johnson, City Link and Adidas.
Operating from Park Seventeen Industrial Estate in North Manchester, Prime Document are ideally situated between the M1 and M6 motorways, just 30 minutes from Manchester Airport.
Prime Document Ltd have been awarded the highest accolade possible by QMS International BenchmarQ: The Diamond Award, achieving 95% customer satisfaction levels.
For more information about Prime Document, visit their website at: http://www.primedoc.co.uk.
Prime Document Limited
Unit 3, Park Seventeen
Moss Lane, Whitefield
Manchester.
M45 8FJ
Tel: 0161 766 5544
http://www.primedoc.co.uk