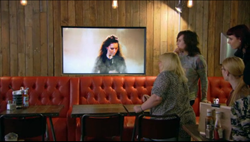 I kept seeing people walk past on what I assumed was just a window when I came in
(PRWEB UK) 23 April 2015
In a recent episode of The Gadget Show on Channel 5, presenters Jason Bradbury and Amy Williams set up an elaborate April Fool's prank in a Birmingham coffee shop. Using only consumer electronics, they aimed to trick their unsuspecting mark into believing that aliens were landing outside. As an integral part of the prank, they used a 4K television specially selected by the TV specialists at Electronic World.
For their prank, they needed a television set that could be installed in the window of their coffee shop location, taking on the appearance of the window itself. The television, a 55-inch LG 4K Ultra HD Smart LED TV, was suggested by the specialists at Electronic World for two reasons; the ultra-high definition ensured that it would provide a super-realistic display, and the thin bevel made it easy to install in the coffee shop's existing window. Special footage was created, showing people passing by the "window" normally for the build-up to the hoax, before then showing presenter Williams, as the alien, falling through the roof to land in the passageway outside.
The hoax also used a range of sound effects, played through a surround sound system for added realism, plus the physical effects of shaking tables created with the drive of a power drill, all remotely controlled by Bradbury from a nearby table. A crowd of extras, briefed to react to the sounds and effects, completed the scene.
The full episode can be seen online at http://www.channel5.com/shows/the-gadget-show/episodes/episode-5-550; viewers who wish to go straight to the results of the prank itself should skip to 34:53, near the end of the programme.
The finished prank is an effective testament to what can be achieved with today's home entertainment technology, in particular the realism of the 4K television display. As the prank's victim said afterwards, "I kept seeing people walk past on what I assumed was just a window when I came in... it was pretty convincing."
Based in Erdington, with six collection depots around the country in addition to their Birmingham showroom, Electronic World have built up a superb reputation for selling high quality graded televisions at low prices whilst delivering excellence in customer service. Purchasing their televisions from high street retailers with surplus and unwanted stock, Electronic World is able to transfer excellent discounts to their customers at no cost of quality.
For more information on Electronic World, or to browse their range of products, visit their website at http://www.electronicworldtv.co.uk/.